This Two-Ingredient Cocktail Is Basically Summer In A Glass
Bashutskyy/Shutterstock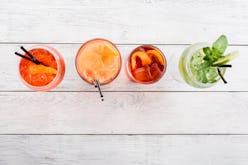 Playing mixologist can be fun, but you might not always have the time and the means to labor over complicated cocktails. Between the muddling, zesting, juicing, straining, etc, some adult beverages seem like just a little too much work on those days when you just want something fast and easy. But just because you want something simple doesn't mean you have to revert to the same old vodka soda or rum and cola. There are actually plenty of two-ingredient cocktails that are so delicious and creative they could rival anything you'd get at the trendiest bar in town.
As founder of Los Angeles-based cocktail catering and event production company Cocktail Academy, Matt Landes knows that ingredients matter when it comes to crafting the perfect drink — but more isn't always more. Classic, pared-down cocktails like a gin and tonic, a vodka gimlet, or even a mimosa are tried-and-true for a reason, but you can also put some twists on the basics and get some fresh, creative takes on those two-ingredient concoctions.
Whether you're into healthy beverages or in need of some crowd-pleasing cocktails you can make in batches, you can get your fix with a few of Landes's recommendations for bevs that only require you to pick up two items from the store. Or better yet, you might already have them in stock. Read ahead to learn all five of his favorites, then whip up your own for a refreshing happy hour or the easiest entertaining ever.
Tequila Blanco & Grapefruit Soda
For a slightly sweet and super simple take on a Paloma, Landes suggests grabbing a bottle of grapefruit-flavored soda to mix with your favorite silver tequila. His ideal combo? Jarritos (a popular Mexican soda) and Don Julio Blanco. And one more ingredient that could already be in your spice cabinet might just be the thing to take this drink to the next level. "If you have Tajin seasoning at home, line the rim with some for an even better cocktail," he suggests.
Vodka & Ginger Beer
Love the flavors of a Moscow Mule but want something that's even simpler? Landes offers up this combo which still provides the kick of spicy and sweet ginger to mellow the taste of the booze.
Bourbon & Root Beer
Rum and cola drinkers might find this pair an easy switch-up that still offers some different flavor profiles. Landes's tip to making this cocktail to perfection? "We prefer something slightly less saturnine given root beer's inherent sweetness," he explains. "You're looking for something to help enhance the notes of anise, cinnamon, and cherry tree bark while rounding out the drink."
White Rum & Coconut-Flavored Sparkling Water
Flavored seltzers are already many peoples' go-to drinks during the summer, but they also happen to make a great cocktail mixer. And according to Landes, combining the coconut-flavored variety with your choice of white rum could lead you to a drink that's pretty much summer in a glass. "This simple mix will transport you and your guests to the beach with its subtle flavor and punch," he says. "You could even make it into a simple at-home mojito by muddling fresh mint at the bottom of the glass before mixing together."
Gin & Sparkling Apple Cider
For a fizzy, fruity, and totally unexpected cocktail that's got a celebratory feel, combine gin with sparking apple cider, suggests Landes. To make this one even more delicious, he recommends grabbing a London gin, which is a bit drier and allows the apple flavor to shine. Another tip Cocktail Academy loves to use when whipping these up for their events? "Buy the smaller bottle versions of the sparking cider and pour out a third, replacing with your gin and voilá! You have a perfect photo-ready party moment," he says.