Anne Hathaway Is Pregnant With Her Second Child — Here's What We Know
Jamie McCarthy/Getty Images Entertainment/Getty Images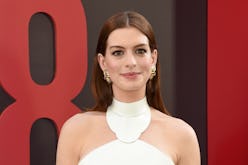 It's been quite the week in the world of celebrity announcements and debuts — and it's not slowing down yet. First came the subtle unveiling of Scarlett Johansson's 11-carat engagement ring (on stage at Comic-Con), and then came the not-so-subtle reveal that Anne Hathaway is pregnant with her second child. Grab your phones and get ready to double tap the actor's super-sweet Instagram announcement stat.
The latest piece of celeb gold to hit your Instagram feed isn't a vacation snap from your favorite trend-setter — though there are plenty of those to revel in right now — but rather an utterly adorable mirror selfie of Hathaway donning cutoff denim shorts, a white tank top, and a baby bump (wait what?).
The Weds. afternoon announcement was, certainly, quite unexpected, which is why Hathaway made sure to set the record straight right away. "It's not for a movie...," she wrote, ensuring her 14.5 million followers that her growing belly is, in fact, the real deal.
"#2," the actor continued in the caption, before going on to share something a bit more serious. "All kidding aside, for everyone going through infertility and conception hell, please know it was not a straight line to either of my pregnancies. Sending you extra love."
Hathaway has stayed out of the public eye in recent months — and now you know why (there's a bun cooking in the oven!). The last time the actor made a TV appearance was on May 9, when she and her The Hustle co-star, Rebel Wilson, stopped by The Late Late Show With James Corden. There was one Hathaway airport sighting earlier in June, too, but the actor was fairly bundled up in a longline cardigan.
Now that the news of baby number two is officially public, though, you can expect to see a lot more of the actor and her standout maternity style again, which, if the past is any indication, will likely be all about comfy but elegant staples (think: floral maxi dresses, button-down shirts, and skinny jeans.)
This marks baby number two for Hathaway and husband Adam Shulman. The couple, who officially tied the knot in 2012, welcomed their first son, Jonathan Rosebanks, into the world back in March 2016. Three-year-old Jonathan will now assume the all-important role of big brother to his new sibling (due date and sex TBD).