4 Fashion Insider Moms Share Their Best Pregnancy Style Tips
@kaiaventdeleon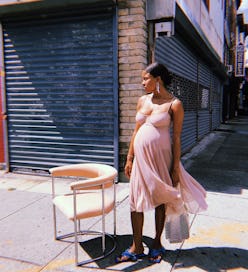 Life in the fashion industry is at times far less glamorous then Instagram might lead you to believe. It comes with complex schedules, long hours, and countless events and shows to stay on top of the ever growing industry. Now, throw pregnancy into the mix, and an already hectic lifestyle becomes more complicated; it can upheave personal style — something that can define a huge part of any fashion-lover's world. While pregnancy is an exciting and uniquely personal experience, the approach to maternity style is equally unique for every woman. For some, a whole new wardrobe is necessary (or simply desired), for others, it's about wearing their usual go-tos for as long as possible. For those beginning the special journey, looking to peers for advice and pregnancy style tips can help you prepare for all the changes to come.
According to market research, the maternity clothing market had a revenue of $1 billion in 2018, but that number is slowly decreasing year over year, as more women find alternatives like sizing up in ready to wear or sticking to looser pieces already in their wardrobes. But what does all of this actually mean to real women going through the experience? Below, four fashion-insiders who are mothers or moms-to-be share insight into their style, shopping tips and fashion go-to pieces for when you too expecting.
Rajni Jaques, Fashion Director Of Teen Vogue & Allure
"Pregnant or not, there will always be joys and challenges of getting dressed," explains Jacques. "Getting dressed in the first months of pregnancy wasn't as hard as month seven through nine." Through her pregnancy, the fashion director found ways to revamp what she already owned. "I don't like shopping and didn't want to spend money on clothing I could only wear when pregnant. My main challenge had to do with jeans, as I love wearing jeans 24/7, (even though they're the hardest item to pull off during pregnancy). I did find a solution [though]: just wearing my boyfriend or baggy jeans with a bodysuit."
As for her go-to look, "slip dresses are super easy to wear during pregnancy (at least for me). I did not buy maternity slip dresses either, I just wore the ones I already had in my closet. I could wear them as is, or throw a sweater or sweatshirt over it, and pair with a chunky heel or boot."
"I always wanted to keep [true to] my style with pregnancy. I never wanted to feel and look like someone else just because I had a belly. I wanted to be me (style-wise) and not get lost in all the "dress for your belly" hype." Besides a slip dress, Jacques recommends body suits, silk onesies, and oversized denim. "There's something nice about the proportion of baggy denim and a round belly. I felt very much like myself in this look."
Marina Ingvarsson, Fashion Stylist
Ingvarsson explains that her pregnancy was generally easy. "I was wearing regular clothes until six months," she says, adding that suits were some of her favorite outfits during her pregnancy. "When I couldn't fit my favorite pants anymore, I just bought a few basic maternity jeans (in blue and black), and mixed them with my favorite shirts and oversized blazers." The stylist adds that besides jeans, she opted not to buy many maternity clothes. "It isn't necessary, you could just size up."
When it comes to maternity staples, there were three items that topped Ingvarsson's list. Firstly, "maternity Jeans to mix with your regular clothes," she says. "The best maternity jeans I bought are from Madewell, 7 For All Mankind, and Leggings from Motherhood." Knitted dresses and sneakers were her other pregnancy staples.
Kai Avent-deLeon, Creative And Founder Of Sincerely Tommy
"I've always dressed for comfort, but while pregnant I dressed even more for the sake of feeling comfortable," says Avent-deLeon. "My body changed so much; I gained 50 pounds, so I mostly wore slips, loose dresses, or jumpers." Through her pregnancy the Brooklynite opted not to spend money on maternity clothes, she explains, "I was able to recycle existing pieces in my wardrobe." During her summer pregnancy, Avent-deLeon says she wore "John Patrick and PRISCAVera slip dresses consistently," adding, "I also went to Urban Outfitters for some inexpensive jumpers I knew I could wear after pregnancy."
In Avant-deLeon's experience, her relationship toward clothing changed throughout the nine months: "Toward the end. in my third trimester, I was so over getting dressed, it was also the summer so I was always really hot," she notes. "My second trimester was the best, I felt really sexy and embraced my little bump."
Based on her own experiences, she has a few recommendations for other women: "leggings if you're pregnant in the fall or biker shorts for summer. [Also] good neutral-colored slip dresses and comfortable shoes. My preference was Birkenstocks!"
Laurel Pantin, Fashion Features Director Of Instyle Magazine
For Pantin, pregnancy was a generally uncomfortable experience. "When I was early in pregnancy, before I was really showing, I could tell my body wasn't the same (which was the most frustrating). Nothing fit, but I wasn't big enough for everyone to tell I was pregnant. I just felt awful all the time." Pantin focused on clothing as a way to help alleviate her discomfort. "I tried to be as comfy as possible; I wore a lot of loose jumpsuits, and a lot of flowy dresses." She adds, "At the end, it was all bets off. I wore workout leggings and cashmere oversized sweaters every day. I had a rough end of pregnancy — the baby was in a super uncomfortable position — so getting dressed was literally the last thing on my mind."
Though Pantin focused on comfort throughout the experience, her personal style shifted through the process too. "I thought I was going to be in flowy dresses, riding boots, and cashmere cardigans my entire pregnancy, but as I got bigger I felt more pulled together in things that were more form fitting," she explains. "And I've never ever been one to wear tight clothes." Instead of maternity wear, Pantin invested in a few stretchy staples. "I bought a pair of leggings from The Row early on that were unbelievably expensive for leggings, but they made me feel glamorous, which I desperately needed." She adds that side-zip pants from Vince and Girlfriend Collective leggings were also key pieces.
One unusual experience for Pantin was going through fashion week just before giving birth. "I had my baby about three weeks early, so I did all of fashion week in February about one week before having him. I somehow managed to cobble together outfits," she notes. Her solution: "I relied a lot on oversized sweaters and dresses. I mostly just bought dresses on The Real Real that were a size or two bigger — I tried not to buy actual maternity wear."
For women going through a winter pregnancy like Pantin, "a great snow boot is a non-negotiable. You do NOT want to slip and fall," she says. "I wore Sorel [boots] when it was really snowy, and Doc Martens when it was just a little snowy." She also recommends treating yourself to a few indulgent pieces that make you feel good. "My Row leggings and a pink Dries van Noten dress were those things for me," she says. "I still wear both."