Anne Hathaway Just Wore The Leather Skirt Every Woman Should Own
Pascal Le Segretain/Getty Images Entertainment/Getty Images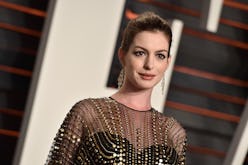 If you think a skirt is the last item of clothing you would reach for in these frigid Jan. temps, Anne Hathaway's latest outfit is about to change your mind. The actor boldly sported a leg-baring ensemble on Weds., but her sleek midi seemed to have protected her against New York's cold front. Anne Hathaway's leather skirt is perhaps the only skirt worth trading your trousers for in the wintertime.
It's been a busy week for Hathaway, who's been running around the city promoting Serenity, the new movie she co-stars in with Matthew McConaughey, nonstop. Before taking the hot seat on Late Night with Seth Meyers, the actor stopped by the set of Good Morning America in the outfit you'll want to wear to work tomorrow.
She sported a long and glossy emerald green coat over a white turtleneck tucked into a chocolate-brown patent leather midi. The A-line skirt is by Sally LaPointe and features a long slit on the front, perfect for movability. Hathaway paired the neutral look with trend-forward leopard-print pumps and Karen Walker's oversized Treasure sunglasses.
The Princess Diaries icon is actually having a leather moment, it seems, because she changed into another camel leather mini dress for her appearance on Late Night later.
To top off the busy evening, Hathaway was the woman of the hour during the Serenity screening at the Museum of Modern Art, to which she wore a long sheer black-and-blue gown. Needless to say, the actor had an immensely fashionable day.
Her leather skirt look, however, is the outfit you need to incorporate into your work rotation ASAP. Winter has a way of inducing monotony, after all, so break your everyday pants streak with a winter-ready midi like Hathaway's.
Unfortunately, the Sally LaPointe piece is unavailable — not to mention it's $2,250 — but The Zoe Report has rounded up other favorites just like it. These five Anne Hathaway-inspired skirts deserve a spot in your work wardrobe immediately.
Shop Leather Skirts