Ashley Graham's Straw Hat Will Make You Want To Book A Vacation ASAP
Frazer Harrison/Getty Images Entertainment/Getty Images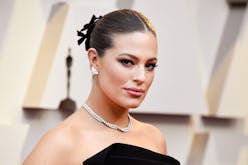 The celeb vacation snaps are streaming in faster than you can keep up with. Olivia Culpo, Martha Hunt, and Ashley Graham have all taken to the 'gram in recent days to show off their latest R&R getaways, which, of course, are chock-full of standout style. The former spent some time in Mexico with Revolve, donning one striking bikini after the other, while the latter is currently vacationing in the travel destination of the year (looking at you, Amalfi Coast), wearing the warm-weather accessory of 2019. Yep, Graham's straw hat is officially the most sought-after summertime topper — and once you set your sights on it, you'll get the hype.
Although summer 2019 has seen plenty of striking accessory trends — from the ever-polarizing bucket hats that models are sporting left and right to the micro mini handbags that might not seem super practical but are quite cute — wide-brim raffia toppers have been the most popular vacation pick among fashion enthusiast around the world this year — and with good reason.
Chrissy Teigen wore a straw beach hat on a recent getaway in Cannes, while Olivia Munn donned a Madewell pick whilst enjoying the clear blue waters of Turks & Caicos. Both were a bit different in shape and style, but one thing remained the same: The topper added instant glam to their beachside looks.
Now, supermodel Graham joins the growing list of celebrity straw hat devotees, donning one in an Instagram video that was taken during her Italian getaway. She's currently vacationing along the Amalfi Coast with her husband, but she always seems to find time to get a bit of work in, even when she's technically OOO.
In her Instagram Stories, Graham recaps the digital series she did with Ellen Tube, called "Fearless," and encourages her 8.6 million followers to swipe up for her latest update. Fans of the model's inspiring series most certainly swiped up, but the fashion-obsessed were probably too distracted by the gorgeous straw hat she was wearing to switch to the next frame.
Luckily, the model's exact raffia topper, which hails from Sensi Studio and is hand woven by Ecuadorian artisans — a process that takes anywhere from two to three days — is still available to shop right now. It's crafted from 100 percent Toquilla straw, features a yellow Italian band with bow detailing, and rings in at $294.
The benefits of wearing a straw hat are twofold: The accessory adds instant retro glam to your look, but it also protects your hair and face from the sun's harsh rays (a must).
In other words, don't jet set off on your next summer getaway without first scooping up one (or more) of The Zoe Report's favorite straw hats. Shop them all, below.
Shop The Look