Anastasia Beverly Hills Is Launching A Liquid Liner — Here's When You Can Shop It
Courtesy of Anastasia Beverly Hills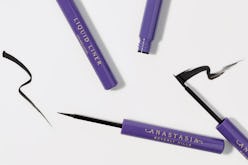 Beauty trends come, beauty trends go. But even with the reigning look that everyone currently loves in a constant state of flux, there are some things that'll never go out of style: A bold red lip, well-groomed brows, and a sleek, striking swipe of jet black liner on your lids, to name just a few. As far as the latter item on that list goes, the trick to nailing the look is all in the tool you're working with — which is why your makeup bag should never be without a precise and pigmented black eyeliner. If you're currently lacking in that department, consider yourself lucky because Anastasia Beverly Hills' new Liquid Liner is about to hit stores to save you from agonizing over imperfectly lined lids for good.
Cult-loved beauty brand Anastasia Beverly Hills has been on a roll this summer. The line's had a nearly non-stop stream of new product launches ranging from shimmery loose pigments and a sparkling body oil to help you shine beneath the blazing sun to the eye primer that'll keep everything in place despite the scorching temperatures. And with no apparent plans to slow down, it's keeping the winning streak going with its upcoming launch: A waterproof liquid eyeliner to help you nail a well-lined look every single time.
The new product, $18, is simply dubbed Liquid Liner and will drop on the Anastasia Beverly Hills website on August 6, and all brand retailers including Sephora, Ulta, and Amazon on August 15. As the name suggests, the forthcoming launch is a fluid formula liner, the first for the brand which currently offers only a gel liner and cream pot iteration amongst its extensive eye product offerings.
Here's what you can expect: Liquid Liner is a waterproof, sweat-proof, long-wear formula that features a quick-drying, highly pigmented matte black finish. The fluid liner is formulated with a water-based gel that's designed to glide on smoothly and evenly via a soft felt-tip applicator with an ultra-fine precision tip, which means you won't see any skipping or feathering as you swipe it on — just one sleek, continuous line from corner to outer edge. Plus, the waterproof formula, which is also vegan, means you can also plan on good wear throughout the day. No running, fading, flaking, or smudging, even in the intense summer heat. Use it to create everything from a striking cat-eye to a subtly-lined upper lid, worn alone or with an all-out eye look.
This new launch is one you can count on loving, considering it's a staple that every beauty buff should have on standby. So go ahead and set your calendar reminder now, because August 6 will be here before you know it.