Why Anastasia Beverly Hills' Colorful New Palette Will Be Your Go-To This Summer
Courtesy of Anastasia Beverly Hills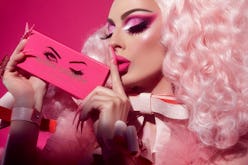 "I don't get cute. I get drop-dead gorgeous," begins a quote by Alyssa Edwards herself on Anastasia Beverly Hills' website. RuPaul's Drag Race fans will recall the iconic phrase, uttered during Edwards' tenure on the reality competition show. However, there's one important change to it, now that Anastasia Beverly Hills' Alyssa Edwards Palette has landed. "…And now, you can too!" Edwards continued.
The new eyeshadow palette collab dropped on the brand's website May 29, following its debut at RuPaul's DragCon LA. Retailing at $45, it's basically everything fans of Edwards would want: The packaging is hot pink, the colors are exhilaratingly bold, and the shade names call to Edwards' own life and personal colloquialisms. Your eyes will instantly go to a few of the shades, too — like "Brick Road," a beautifully basic yellow that takes center stage in the palette's layout. The two to its right are show-stoppers, as well: "Texas Made," a fuchsia pressed pigment, and "Dream It," a deep royal blue.
It's plain to see that this is a palette that'll launch a thousand looks; the combination of a punchy color story and Edwards' playful wink on the front cover will inspire you to dip into those bright shades. However, while it may seem extreme at first glance, this is a palette you'll be able to use all summer long — even if you prefer simple, minimalist makeup.
It comes down to the palette's layout. While you may not notice it right away, six of the 14 shades are blendable, buildable neutrals — the sort of colors you'll use during the work week to create a subtle eye. Those colors flank the pinks, purples, and yellow near the center of the palette. The metallic gold "Inspire" is one that balances between the palette's neutrals and its neons, and will definitely become a staple in your rotation.
But you'll want to dip into those neons this summer, too, even if you aren't creating multifaceted, Drag Race-inspired looks. Single eyeshadow looks — you know, the ones with only one color on your lid — are having a moment. So, tap your brush into the "Brick Road" yellow, or the pretty purple shade "Believe," before you head out the door; they're bright enough to support the single-shadow trend all on their own.
Don't hesitate to order your own palette, though. Naturally, the Anastasia Beverly Hills Alyssa Edwards Palette is limited edition; grab yours by scrolling down.