If You Like Anastasia Beverly Hills' Eyeshadows, You Need This New Product In Your Makeup Bag
Anastasia Beverly Hills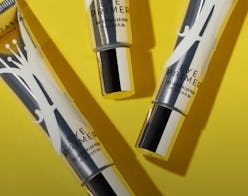 So you just spent all morning painstakingly blending, lining, and perfecting your eyes, only to notice it's smudged and sliding off your face by the time lunch swings around. Sound familiar? It's an unfortunate truth of eyeshadow application, especially during the heat of summer when things can get, well, sorta sweaty. But rather than completely forego your signature shadow this season, make sure your look stays in place by grabbing Anastasia Beverly Hills' Eye Primer — it'll create an ideal canvas for smoldering summer eyes that actually last.
If you're a fan of Anastasia Beverly Hills, you're likely up to date on it's incredible and growing list of Summer 2019 launches. So here's some really good news: Just when you thought the brand was done, it's equipping you with exactly what you'll need to help your shimmery, summer party-ready eyeshadow stay in place (even as temperatures soar). It's the brand's first-ever Eye Primer, and it's joining Anastasia Beverly Hill's core collection permanently as of May 29 — just in time for you to stock up ahead of summer.
Anastasia Beverly Hill's newest product is a water-resistant eye primer that's available in a full size for $23, and a mini, travel-ready tube for $13 (perfect when packing for summer getaways). The creamy formula comes in a light-colored base that glides onto eyes smoothly and creates an ideal canvas for eyeshadows in every finish, from matte to metallic to shimmer, and any formula, from liquid to loose or pressed powders. Shadows will blend smoothly and easily, and stay exactly where you've placed them.
Plus, thanks to the crease-free primer's neutral beige color, it'll actually improve the vibrancy and intensity of your eyeshadow pigments. That means you'll be able to use less product to achieve the same result and color payoff — and you're less likely to have any fallout or unwanted smudging throughout the day. And a little goes a long way with the primer too, so applying just a tiny touch to each lid with your finger or a small brush is all it takes.
Better yet, the vegan and cruelty-free eye primer is suitable for all skin tones and types, and features a moisturizing formula to actually reduce the appearance of fine lines and hyperpigmentation for a more even appearance each time you apply. Basically, not only will your shadows blend like a dream and be locked into place, but your eyes will look as bright and youthful as ever. Yes, please.
Ready to add Anastasia Beverly Hill's latest launch to your makeup bag? Scroll to shop it below, before summer's first heat wave has a chance to sneak up on you.