Smith & Cult's Fall Makeup Collection Is Already Here & It Includes 3 Totally New Products
Smith & Cult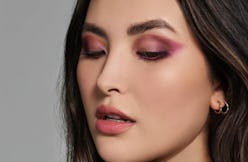 Sure, you're just getting into the swing of summer, but the beauty industry doesn't get to stop and bask in the sunshine quite as much as you and your friends. Instead, brands are hard at work developing their next collections — and believe it or not, some of the first drops for fall are already beginning to hit shelves. And if you're ready and willing to get a jump on updating your makeup bag for the season ahead, Smith & Cult's fall 2019 makeup collection is a great place to start. With three completely new products (one of which is oh-so essential for hot summer days), this is one launch you'll want to get in on early.
Here's a beauty question worth reflecting on: Why blend into a sea of basic beauty when you could stand out instead? That's the belief behind every one of Smith & Cult's beauty products, which range from its cult-loved nail polishes to utterly cool (and incredibly innovative) color cosmetics like glitter eyeshadows and complexion-perfecting primers. The brand favors pushing the envelope to playing it safe, putting out cutting edge beauty that promises to reinvent your routine. It's safe to say its fall 2019 collection is no exception.
The new drop, which is now up for grabs on the brand's website as well as Ulta.com, includes three game changers that'll upgrade your makeup shelf — one of which is totally first-of-its-kind. Smith & Cult's new Instant Recall, $26, is a spray-on setting powder that locks your makeup in with the soft-focus finish you'd expect from a powder, plus the weightless, long-lasting feel of a spray. It relies on rice powder to take down shine and provide a matte finish, and antioxidant-rich coconut water powder to detox and protect skin all day. Gone are the days of accidentally spilling your finishing powder all over your bathroom counter (thank goodness).
Smith & Cult's fall launch also includes a brand-new under eye concealer, $28, aimed at making dark circles a thing of the past, and two bold eyeshadow and highlighter palettes with shade-shifting hues. The brightening concealer, aptly called Cancelled, features a fluid, lightweight formula with a radiant finish that's available in 20 inclusive shades that'll blend perfectly with your skin tone. The hydrating formula was created specifically with under-eyes in mind, and even features cocoa seed which provides protection against blue light for the area's delicate skin — apply each morning to keep you looking fresh and bright despite being glued to your phone or laptop screen.
The two new shadow palettes, on the other hand, are made for standing out. Both $28 Sombra Shift Matte & Metallic palettes feature nine shades, one of which has a multidimensional, color-shifting finish that can be used as an eye-catching highlighter or to transform any eye shadow its blended with. Choose from Dusk Blaze, a collection of warm, earthy shades, or Lilac Flash, an array of berry, plum, and cream colors. Create smokey eyes, or use your favorite shade to add just a pop of color to your lids.
Get ahead of everyone else and grab up Smith & Cult's new launches below. You'll be glad you did when everyone's snagging them come fall.