This Surf Vacation Is Basically An Upscale Summer Camp For Grown-Ups
Tropical studio/Shutterstock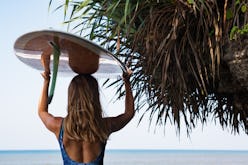 With the impending arrival of summer comes the need for a few new florals in your closet, a spray tan, and perhaps a beach getaway to put on your calendar and give you something to look forward to. That said, if you're looking for a unique summer vacay to shake things up this season, you might want to consider picking up a surfboard. Yes, now more than ever, there are countless companies offering memorable surf trips to learn how to "hang 10," both in coastal cities and in destinations that make for awesome summer vacations.
And if you already know how to surf, there is always more to learn when it comes to mastering the difficult sport. Whether you're looking for something close to home or a far-off exotic locale for a full adventure, there is a surf lesson or retreat for you. Some focus on education, while others put an emphasis on yoga or great cuisine, but all make sure you leave a better surfer than you arrived, equipped with tools for improving on your own once you're back at home. Here, a few top surf getaways to consider this summer, from the Hamptons to Costa Rica. Perhaps it's time to add a cute wetsuit to your summer shopping list?
This all-inclusive, one- or two-week camp in Nosara, Costa Rica, fuses education with instruction, taking people from the water to the classroom to refine their surf practice. Using videos and white boards, the staff teaches attendees the ins and outs of surfing — from swell-forecasting and board design to surf etiquette. Time is also spent in the pool to work on skills like paddling, duck diving, and turtle rolling. Video analysis rounds out the intensive lessons, allowing surfers to see what they look like so they can perfect their form and skills.
By the time you check into the brand-new, 10-bedroom Platinum L.E.E.D Certified resort Surf Simply recently moved into, staff will already know your surfing experience (if any), as well as your goals and interests for the week, which can go beyond surfing and include massages, culinary preferences, and activities like paddle boarding and horseback riding. Because the coaches only work with 12 guests a week, there is a lot of personal attention — but the downside is that spots can be booked out years in advance, so make sure to plan your Surf Simply vacay ASAP.
If you live on the East Coast and aren't ready to commit to a full surf getaway, Austin's Surf Camp in Montauk, New York, is perfect for you. There are several options for learning, including private lessons for up to six people, allowing you to gather a group of friends if you prefer to take on the ocean as a team. And as long as you're in Montauk with your besties, you might as well make a thing of it and explore all the incredible hotels, restaurants, and shops this super-hip part of the Hamptons has become known for.
This surf-and-yoga retreat in Sri Lanka started as the travel blog of its founders Petter and Linn, who spent three years traveling around the world surfing and meeting people who they would then profile on their website, Sunshine Stories. Today, the self-proclaimed "lifestyle retreat" welcomes both beginner and advanced surfers and yogis to the faraway destination to further their skills and practice.
And if you only want to focus on surfing or vice versa, that is also possible. Sunshine Stories believes surfing and yoga work in tandem for the best results, but the experience can be customized to the individual (and if you want to skip a class to relax one day, that's ok too). There is even a "Stay, Eat & Experience" option for pals or loved ones who want to come along without partaking in surfing or yoga.
Guests stay in an 85-year old Colonial Villa and enjoy meals of fresh fruit and authentic Sri Lankan foods (think rice and curry), as well as seafood and local veggies. There are also scheduled tea times, excursions into town, and even a cooking class. And the pièce de résistance? Guest are welcome to as many coconuts as the heart desires.
WildMex Surf & Adventure allows you to customize your surf experience to your liking in the beautiful and warm waters of Mexico. Depending on your budget, choose anything from a hostel to a high-end hotel in the Punta Mita, Sayulita, or San Pancho area and then let the local instructors take care of the rest. Each day includes a surf safari to one of several gorgeous breaks in the Punta Mita and Sayulita area, allowing you to explore much of what this charming section of Mexico has to offer. After full days in the water, reward yourself with margaritas and local Mexican fare.
Ages 16 and older can get in on the Surf Diva five-day or two-day clinics that are open to individuals, couples, friends or even family members in San Diego, California, all year long by request. This multi-day surf clinic allows both novice and intermediate wave-sliders plenty of time in the water, working on ocean safety and surfing etiquette as much as pop-ups and turns. If you don't live nearby, you can set up your own accommodations and then spend each morning from 10 a.m. to noon with Surf Diva, allowing you time to explore Southern California with the rest of your day.