What To Know About Going From Blonde To Brunette, According To Celeb Colorists
Rosdiana Ciaravolo/Getty Images Entertainment/Getty Images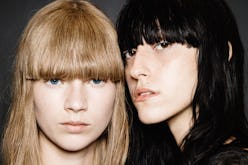 I'm a natural brunette, but based on my blonde balayage, you would never know. OK, that's a lie, you would totally, definitely know, because I have neither the time nor the energy for proper upkeep. In the name of effortless hair (and, you know, seasonality), I recently underwent a blonde to brown hair transformation — and, well, "effortless" isn't exactly the word I'd use to describe the process.
The first thing to know about going from blonde to brunette is that you probably need input from a professional colorist. (Trust me, step away from the box dye.) "Making blonde hair brunette isn't as easy as it looks," Jaxcee, a colorist and curl specialist with Hair Rules in New York City, tells The Zoe Report — and to be specific, she's talking about previously processed blonde hair. That's because going blonde when you're not naturally blonde involves removing pigment from the hair via bleach, and going back to brunette requires extra pigment. "Just adding brown color to blonde hair will leave the hair looking muddy and washed out, because blonde hair is missing all of the pigments needed to make a rich brunette shade," Jaxcee explains.
There's a fix for this, though, and it's called "filling in." "This is when we add orange, gold, and red pigment onto previously colored blonde hair before coloring the hair to the desired brunette shade," Jaxcee says. "This makes sure that the hair isn't shallow and faded." When my colorist told me a version of the same in the salon chair, I was surprised and also skeptical — I did not want red undertones, and would've preferred to skip that step. But, I shouldn't have worried. The filler color essentially gives darker dye some pigment to "grab onto," and the final effect is a rich, natural-looking shade of brown. (This step is essential whether you're a born blonde or a boxed blonde.)
Be warned: This takes time. Jaxcee says to ask for a "color correction" appointment, and make sure the salon understands it won't be a single-process treatment when you book, "so that your colorist has enough time in their schedule for you." You'll likely need to go back in for gloss treatments once a month, too, especially if you have natural hair. "Natural hair that's been previously processed blonde will be more porous and therefore not hold on to the pigment for as long," the colorist explains. "A gloss will reinforce the work your colorist put into the initial single process and keep your color looking fresh longer."
That's quite a bit of effort for an "effortless" look — which is why most colorists prefer to have a chat about your color goals before the actual dye job. "I'm all about having a long consultation, making sure that going darker is what the client wants," Stephanie Brown, a Master Colorist at IGK Salon in New York who works with Kate McKinnon and Melissa Villaseñor, tells TZR. Brown actually tries to convince her clients not to go brown. "I usually tell my clients to go darker slowly, and I start them with lowlights, and every time they come in I make them a little darker," she says. "I also go slowly because if I dye someone's hair brunette and they don't like it, it's really hard to go back to blonde."
According to colorist Ian McCabe, the owner of Ian McCabe Studio in Washington, D.C., most of his brunette-curious clients end up adding more depth at the root instead, or just getting a gloss treatment for a softer tone. "Going darker is a commitment, it's not like putting on a wig where you can decide to take it on and off — it's a process that most blondes wouldn't commit to," he says. And actually, on that wig tip, Brown says that's a good first step for brunette beginners: "I would suggest getting a wig and wearing it around for a while — with and without makeup on — to see how you are going to feel with brunette hair."
Oh, and if you're ditching the blonde in the name of damage control? Don't. "Just because you go darker doesn't mean you eliminate the damage," McCabe says. If your strands are fried from too many bleach sessions, they'll stay fried… and after going darker, they'll be color-treated, too. "If you try to go back to light again, you're competing with all the existing damage, plus all the new damage you're creating going light again," he warns.
Whew. If you're still committed to being a brunette after all that, you should know that aftercare is of the utmost importance. "Don't wash your hair every day, and use as cool water as you can," Brown says. Also: "Masks are your friend, as keeping hair moisturized will help keep color rich and shiny and won't fade." Finally, skip the sulfate shampoo and consider co-washing, instead. "Co-washing is a gentle way to cleanse color-treated hair," Jaxcee says. "I love Hair Rules Cleansing Cream for dense and coiled textures and R+Co Analog for finer, straighter textures."
Speaking from the other side of the blonde to brunette transformation, I can confirm it's not as easy as it looks — but don't let that stop you. Because it looks damn good.