The Warm Hair Color Trends That People Are Asking For In Your State
IMAXTREE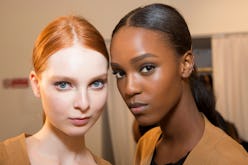 There's a reason major life changes have the tendency to inspire major hair changes (I'm looking at you, breakup bangs): because nothing sets the tone for the day, week, month, or season quite like a fabulous head of hair. And although the *official* start of autumn may still be but a golden-orange glimmer in the distance, it's time to start thinking about the literal tone you want to set for the season ahead. These eight September 2019 hair color trends, plucked straight from the pros, are a good starting point.
"Warmer colors are great for fall because with the summer months gone, the sun goes away and your skin is paler," Stephanie Brown, a Master Colorist at IGK Salon in SoHo, New York City, whose clients include Kate McKinnon and Melissa Villaseñor, tells The Zoe Report. "Adding warmth helps your skin look fresh, as if you spent some time in the sun." The colorist believes warm undertones will be big no matter what your "overtone." Think: Golden Obsidian, a gold-black (as opposed to last season's blue-black) and Copper Penny Red, a rich orange. "Just a small change in tone can make a big difference," she says. Of course, there's no rule that says you have to go warm for fall — a cool, icy blonde is timeless.
Ahead, eight celeb stylist-approved color trends to help transition your strands from summer to fall.
Sicilian Brunette
Brunettes, follow actress Sophia Bush's lead. "We deepened and richened her color back to more of her Italian roots," Riawna Capri, the co-owner of Los Angeles' Nine Zero One salon and Bush's colorist, tells The Zoe Report in a press release. "Going darker makes the hair appear thicker and healthier instantly."
Icy Wheat Blonde
Cool tones can work for fall too, as evidenced by the icy wheat blonde created by celebrity colorist Matt Rez (he works with Camila Mendes and Lili Reinhart). In a press release to The Zoe Report, Rezz, a Redken ambassador, says a "wheat-y base" makes for great lowlights when topped with "baby blonde."
Copper Penny Red
"Reds really always have a moment in fall, maybe because of the changing leaves," Brown tells TZR in a press release. For fall 2019, she predicts the "bright and rich deep orange" will be the color to watch.
Golden Obsidian
"For dark, almost-black brunettes, go with a gold undertone for the hair," Brown suggests, citing actress Shay Mitchell's color as inspiration. "The blue-black that was popular last year won't be so popular this year. Warmer hair is more flattering for most skin tones."
Beige Blonde
Colorist Cassondra Kaeding, a Redken ambassador who works with Natalie Portman and Katherine Schwarzenegger, is feeling what she calls "Beige Blonde" for September. "I wanted to create a dimensional blonde, weaving in sandy blonde and brown tones," she tells TZR via press release. "I tell all my blondes to use Redken Color Extend Blondage Mask once a week to get rid of any brassiness."
Cinnamon Brunette
Keep an eye out for "medium brunettes with cinnamon ombré pieces" this fall, says Brown. "Just a few pops of that warm color brighten up your face. It adds dimension to make hair look fuller and shinier."
Autumn Glow
"This 'Autumn Glow' is a wonderful new brunette color for Mandy [Moore]," Nikki Lee, the co-owner of Nine Zero One and the actress' colorist, says in press release to The Zoe Report. "It's rich and warm with flickers of golden light! To prevent it from going brassy, try Garnier's anti-brass treatment."
Rooted Buttery Blonde
"I've been seeing more and more of my blondes opting for a rooted look — even I went for a rooted look recently, and I love it," Brown says. "It's lower maintenance, yet you can still be bright. And those golden, buttery tones are beautiful when transitioning from summer to fall and losing that tan."