Nicole Kidman Just Debuted A Fiery New Hair Color
Brook Mitchell/Getty Images Entertainment/Getty Images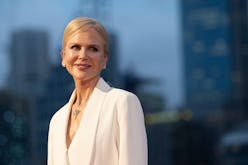 Nicole Kidman is a natural redhead, as you know, but she's stuck to her icy blonde for so long it's become her signature hue. However, the actor seems to be channeling her earlier days with the shade she just debuted on set. Nicole Kidman returned to her red hair roots for her new TV series, The Undoing.
The Oscar winner is acting in and producing an HBO show based on the Jean Hanff Korelitz novel You Should Have Known. While the series isn't expected to premiere until later in the year, Kidman just gave everyone a taste of her character's bright-red hair.
It's possible that the famous Aussie's new fire-red hair is just a wig, but it suits her so well one could only hope that it's permanent. The bold copper color is reminiscent of her Practical Magic days, or the tight curls she was known for in the early '90s.
Seeing Kidman with red hair certainly isn't an unusual sight. The actor returned to the color she was born with (albeit, it was a wig) for the wildly popular 2017 series, Big Little Lies, which she starred in with Shailene Woodley and Reese Witherspoon. But when Kidman isn't in front of the camera, she seems to stick to her usual platinum blonde, which she's been sporting for years now.
When Kidman does dye her hair back to red — which is actually quite frequently — she tends to go for a more subdued strawberry blonde hue. She typically opts for a soft red color with icy undertones, but not this time.
Her latest hue is a vibrant ginger red. She (or her character, rather) wore it in natural-looking curls almost like the ones this Hollywood veteran sported decades ago. If you're not racing to the salon yet, you certainly should be — especially if you're in need of a switch-up from your usual hue. Get Kidman's red curls with The Zoe Report's top hair product picks, ahead.
Shop Hair Products