The Surprisingly Subtle Hair Color Trends You're About To See Everywhere
Matt Rez/Starworks Agency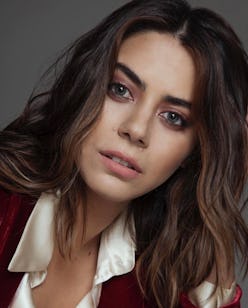 The beauty industry is notorious for one-off trends (read: sparkly glitter roots and Christmas tree-shaped brows), which might read as a little wacky. But the need to switch up your hair color is one that never seems to go away — and why fight the feeling? 2019's hair color trends are super wearable and too good not to try.
"I feel like more and more people enjoy expressing themselves and showing how creative they can be — and there's nothing better than your hair to do this," celeb stylist Benjamin Muller tells The Zoe Report. "Instagram today is a great platform where everyone can be connected and look for hair inspiration," he adds.
To inspire your next shade — because honestly, a change in seasons is always a great excuse to call up your stylist — TZR spoke with six experts who shared the top hair color trends that'll be huge in 2019. Some are takes on styles that you've already tried (like baby lights and "vacation blonde"), while others — like living coral and prism braids — deviate from the norm. Whatever your comfort zone is, there's something for everyone... and, hopefully, a reason to deviate from that safe space. See the looks ahead.
Midlights
"More and more, clients are opting to keep their natural base colors and build their dimensional color on that," Rez says. His solution? A new coloring technique he calls "the midlight," which basically acts as a connecting bridge between your root shade and highlighted ends. Unlike the ombré fad, midlighting promises natural movement without looking stripy and gives you a bold, yet believable color, he adds.
Navy Blue Hues
Muller says while he loves jet black hair, he appreciates how a touch of blue can transform the neutral shade, giving it a cool "icy effect" and tonal range. If you're not into highlights and ready to — wait for it — dive in, then why not try to dye your whole head? A model at Gucci fall/winter 2018 leaned in to the trend ahead of time.
Softened Baby Lights
"Believe it or not, women are finally embracing more golden tones instead of being afraid of warmth in their hair," Trygstad says. For naturally curly or brown-haired clients, he suggests baby lights as a great way to add more character and dimension to your ringlets "without going overboard" aka coloring your entire head. Unlike full-blown highlights that can look unnatural, when done right, this light-bending technique gives off the allusion of subtle sun-kissed streaks all year long.
Living Coral
Pink has long been a popular bold color to experiment with, but unlike the fluorescent shades of the past, try a softer wash of color. At Marc Jacobs spring/summer 2019, Redken Global Color Creative Director Josh Wood was inspired by "antique pastels" from the 60s. But to me, the soft rose, above, reads just like the Pantone Color of the Year: Living Coral. "I love Pravana's 'Too Cute Coral'," stylist Ryan Trygstad, whose client list includes Kelly Ripa, Julianne Moore, Courtney Cox, and Nina Dobrev, tells The Zoe Report. "This hue makes people's skin tones appear much creamier, as it's very complementary and softening."
Prism Braids
While protective styles like box braids, goddess braids, and chunky braids will always be in, they'll be worn more artistically in a myriad of colors, according to L.A.-based braider Jahmai Lumpkin. "Neon and bolder hues will be in full affect in the new year — especially around festival season," she tells TZR.
Storm Cloud Gray
In case you were wondering if "going gray" would fade into the sunset come 2019, think again. "People are still very intrigued with how striking gray-colored hair is," says Jaxcee, the color director at Hair Rules Salon in New York City. In fact, as interest ramps up, she's had several clients ask for grays with a splash or two of color throw in the mix — a spinoff likely to become a trend all its own.
Vacation Blonde
Platinum definitely had its moment, but the infamous beach blonde look is back, according to color extraordinaire Matt Rez. "As beautiful as platinum blonde is, it's too risky and pretty damaging," Rez says. "The honey blondes and that world of color are less damaging and can be tweaked to compliment most skin tones."
Rusty Auburn
In Paris, red is the new blonde according to colorist Christophe Robin. "Though it should be avoided on skin that is prone to redness, red as a hair color is so sensual," Robin says. "It warms and enhances complexions." When asked which other shades might peak, Trystgad predicted rich auburn, mentioning the bold (and super pretty) hue Emma Roberts sported for a bit back in 2016.