More Than 7,000 Sephora Shoppers Are Obsessed With This Surprisingly Bold Eyeshadow Palette
Anastasia Beverly Hills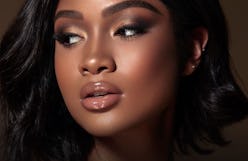 Whether you consider yourself a beauty obsessive or more of a makeup minimalist, there are still a few products just about everyone reaches for on the daily. You've got your go-to concealer and your holy grail highlighter, as well as a product or two to make your eyes pop. But have you ever tried any of the best eyeshadow palettes with a cult-like following that Sephora shoppers can't stop obsessing over? With thousands of five-star ratings between them, they're much-loved picks that are more than worthy of a space on your beauty shelf.
Sephora's stores are stocked with countless options when it comes to eyeshadow palettes — there's something for practically every kind of beauty aesthetic, from makeup maximalist to a more subtle sensibility. But even with a wealth of products to choose from, there are still some palettes that've managed to rise in popularity far more than others, outlasting the competition to reach cult-fave status.
And just as you'd expect from eyeshadow palettes with such universal appeal, each top-rated product is exceptionally versatile — even if some of the sets include shades that are surprisingly bold. Need some proof? Look no further than the Anastasia Beverly Hills Modern Renaissance Eye Shadow Palette, which has racked up a ridiculously high rating of 4.8 stars via more than 8,000 reviews.
Over 7,400 Sephora shoppers have given the Modern Renaissance palette five stars, praising it for the versatile range of pink, orange, and brown shades and impactful color payoff. Despite being a departure from classic nudes and more subtle shades, countless reviewers have dubbed this palette their go-to for daily use. Considering the romantic range of shades, maybe you should pick this palette for any upcoming Valentine's Day plans?
If slightly more neutral eyeshadows are more your speed, scoop up a top-rated palette with pretty shades of tans, nudes, and browns. Tarte's Tartlette in Bloom Clay Eyeshadow Palette, $39, has 12 super-wearable matte and subtle-shimmer shadows — and over 2,000 five-star reviews. Or for a totally-curated kit you can use from day to night, opt for the Marc Jacobs Beauty Eye-Conic Multi-Finish Eyeshadow Palette, currently on sale for $30. It's got seven essential shades ranging from peachy nudes to shimmering tans to a satiny chocolate color, so you can create a subtle day look and then dial up the drama at night.
No matter your makeup mood on any given day, the most-loved palettes at Sephora are exceptionally adaptable picks, so you'll never be at a loss when crafting the perfect eye look. Keep scrolling to shop the fan-favorite eyeshadow sets that Sephora shoppers can't get enough of.