This Asian City Is One Of The Trendiest Vacation Spots Right Now
i viewfinder/Shutterstock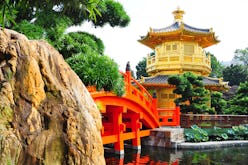 From ancient temples and modern skylines to tropical landscapes and legendary street food, there are sights, flavors, and reverbs from centuries-old culture that arguably make Asia the best vacation destination at the moment. It seems, these days, everyone is heading East for an unforgettable and truly epic getaway — no matter which city they land in.
If, for whatever reason, Asia hasn't made your list yet, Katy Rebrovich, senior leisure agent for CIRE Travel, a corporate and luxury travel agency, shares a few quick tips that'll quickly make it a no-brainer. "There are plenty of apps now that allow you to speak in your native language and it will speak back in the local language of choice or show the translation on your screen," she explains. "There are even apps that will translate written words like menus or signs, so any language barrier is becoming a thing of the past."
Further, she adds that a little cultural knowledge can make for a much smoother trip. "Simple things like knowing to cover your shoulders and your knees before visiting local temples in most Asian countries can make the difference," says Rebrovich. "I always recommend learning how to say 'hello,' 'please,' and 'thank you' in the local language. Just making that small effort will go a long way anywhere you travel."
Ahead, travel experts dish on their favorite Asian destinations based on their own experiences. Whether you're seeking luxury, history, skylines, or adventure, there's an overseas city to fit your vacation style (and wherever you go, be sure to bring your appetite). Go ahead and grab a pen, because your bucket list is about to grow.
Hong Kong, China
Amy Brueckner, an intrepid world traveler and chief of staff at CIRE Travel, describes her favorite Asian destination. "I've been to 14 countries and dozens of cities in Asia, and which city tops my list? Hong Kong! It's both elegant and mysterious with secret alleys, awesome natural beauty, and incredible food. It's really accessible and easy to get around. [...] And there are people from all over the world there because it's a hub for international business."
Brueckner adds a few of her favorite can't-miss attractions: Tea at "The Pen," a high-end hotel; dinner at Yardbird, a world-renown restaurant; and a day trip to Macau, which is accessible by ferry, and "one of the most unique places I've ever visited," she says.
Bangkok, Thailand
"Many people are visiting Bangkok now, but the influx of tourism hasn't dampened anything there," says Esther Klijn, who specializes in honeymoon, high-end leisure, and business travel for CIRE. "One dollar pad Thai. Tuk tuk rides. Ancient temples. Unbeatable night life. Markets. Culture. History. Luxury accommodations at low rates …[you can get] incredible value for the money."
While there's no shortage of delicious bites (and sips) in Bangkok, Brueckner gives two of her top choices. "Have drinks at one of the outside bars overlooking the Chao Phraya River at the Mandarin Oriental, Bangkok," she says. And for a sweet treat? "Go to Mango Tango. Trust me!"
Singapore
Klijn adds that anyone visiting Bangkok should consider taking the Belmond Eastern & Oriental Express, a multi-day train tour, to Singapore (or vice versa) for an unforgettable two-in-one trip. "Singapore is a huge juxtaposition to Bangkok, but still a mecca," she says. "Very modern. Highly sophisticated. People from all walks of life."
While you're there, Klijn says to consider staying in Sentosa — it's a small island off the southern coast. "You can get there by car, cable car, or pedestrian walkway," she says. "Palawan beach is lined with food stands, bars, and a huge bridge to smaller, off-shore islands."
Bruekner points out that first-timers should check out CÉ LA VI Skybar for cocktails and city views, Bacchanalia for Michelin-starred dining, and the "highly Instagrammable" Gardens by the Bay.
Siem Reap, Cambodia
Rebrovich says that Siem Reap is, "a must see/add-on for all Vietnam or Thailand itineraries; three days here and your world is changed." She continues, "The temples are incredible and mind-blowing; to be surrounded by such ancient beauty … it's a real testament to human perseverance and design."
Her favorite, she says, is the Ta Prohm Temple. "[It's] sometimes referred to as the Tomb Raider temple after being featured in the movie," she says. "It's slowly being re-enveloped into the jungle, the majestic Banyan trees growing in amongst the incredible ruins. It's a sight that must be seen to be believed."
While in Siem Reap, Rebrovich suggests staying at the posh Victoria Angkor Resort & Spa, where you can enjoy some pampering after an epic day of sightseeing.
Ho Chi Minh City, Vietnam
"One of my favorite trips that I've planned in my 20-plus years in the luxury travel business was to Vietnam," explains Eric Hrubant, president of CIRE Travel. "Ho Chi Minh City was the highlight. Incredible history and museums, some of the most luxurious hotels in the country, great shopping (both high-end and street markets), and an incredible international dining scene ... ask the locals for the best banh mi and ca phe sua da.
"The population of Saigon, as it's still commonly known, is over eight million, with almost as many scooters/mopeds, so it has a high-energy, bustling vibe. Speaking of scooters, there are some fun tours you can do on scooters … food tours, bar tours, city tours. It's an exhilarating way to experience HCMC!"
Hrubant recommends treating yourself to a luxe stay at the Reverie Saigon, revisiting history at the Reunification Palace and the War Remnants Museum, and taking the Saigon After Dark Vespa Adventure.
Taipei, Taiwan
"Taipei is one of Asia's best kept secrets," says Jan-Hendrik Meidinger, general manager of the Grand Hyatt Taipei. "The city is jam-packed with stunning natural scenery, a wealth of cuisine (from street foods to Michelin-starred restaurants), great night life and vibrant markets, designer shopping, cultural attractions (from hot springs to temples), friendly locals. and excellent value, to boot."
Meidinger adds that Taipei is "an absolute paradise for cyclists." Further, she says, tourists can't miss meandering through Songshan Cultural and Creative Park, skyline-gazing from the Elephant Mountain Hiking Trail, and experiencing live beats and tasty eats at the Tonghua Night Market.