7 Halloween Makeup Ideas From Moschino, Maison Margiela & More
WWD/Shutterstock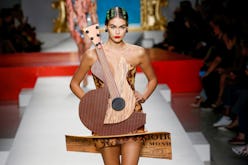 Fashion Month inspires in so many ways: The designer collections introduce you to fresh trends, the street style encourages you to shop your closet, the Instagram coverage convinces you to maybe, one day, finally try your hand at the whole influencer thing. But for fashion girls who love to dress up, the biggest inspiration comes courtesy of the backstage beauty looks, which just so happen to work as Halloween 2019 makeup ideas, too.
Example: Last year, it seemed as if every fashion editor in the industry donned a Moschino "paper doll" getup, based on Gigi Hadid's appearance at the brand's Spring/Summer 2019 presentation — and the Spring/Summer 2020 possibilities are just as good.
No matter how you approach Halloween, from over-the-top enthusiasm to a low-lift "goth" smokey eye, the SS20 Fashion Month runway shows have just the thing you're looking for. Ready to go all-out? Cover yourself in biodegradable glitter, a la the models at Gypsy Sport, and go as a sparkly, futuristic alien. (The look could even work to emulate Jennifer Lawrence as Mystique in X-Men.) Only have five minutes to get ready? Swipe on a coat of black lipstick, as seen at the Marques'Almeida show, and go as a punk — just add attitude.
Ahead, seven genius costume ideas plucked straight from the SS20 runway.
Extra-Sparkly Extraterrestrial
Dedicated fans of Halloween, this one's for you. Make like a Gypsy Sport model and rock full-body bio glitter from BioGlitz (the exact brand used on the runway) and go as an extra-sparkly extraterrestrial. A silver shade screams "alien," while blue gives off X-Men vibes. Either way, you can't go wrong.
Artsy Floral Arrangement
The headgear at Thom Browne isn't exactly easy to wear for everyday. But for Oct. 31? It's pretty much perfect. I'm sure you could DIY a full floral arrangement head topper, but who has the time? The easier option is to invest in a flowered headband.
Picasso Painting
Moschino never disappoints. This season, designer Jeremy Scott referenced Picasso — and you can do the same for Halloween. All you need is soaped-up brows, a bold red lip, and a little bit of hair paint to give your strands that brush-stroked look.
Stylish Soldier
Maison Margiela sent models down the runway donning military-style hats. My husband, a former Marine, informs me this particular style is called a "Garrison cap" — and really, it's all you need to make a Margiela-worthy costume work.
Iris Apfel
Why not dress up as a living legend: Iris Apfel? The nonagenarian was clearly the inspiration behind Gucci's Spring/Summer 2020 glam, which featured oversized glasses, croakies (otherwise known as "glasses chains"), and bedazzled broaches.
'50s Pin-Up
I guarantee you have everything you need for a Dolce & Gabbana-inspired pin-up costume in your closet (or beauty closet) right now. Simply tie a silk scarf around your strands, add a red lip, and accentuate an hourglass shape. Done!
Too-Cool Punk
Easiest idea ever: Paint your pout black and call yourself a punk. Thanks, Marques'Almeida.