Why You Should Be "Soaping" Your Eyebrows, According To Moschino Spring/Summer 2020
Luca Bruno/AP/Shutterstock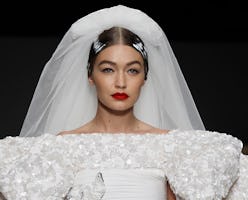 Moschino, in its graffiti-patterned and heavily logo-ed glory, is always a wildcard show during Milan Fashion Week. You don't know what you'll get — which is actually kind of the fun part in watching. So when I descended up the steps of the Palazzo del Ghiaccio for the Spring/Summer 2020 presentation on Sept. 19, I braced myself for the outlandish. What I got, in return, was an old school trick with a new spin: the soapy eyebrow hack.
"The inspiration for the collection was Picasso," Kabuki for MAC Cosmetics tells TZR. "When I arrived at the Moschino showroom, they were all having lunch, so I got to look around. It was like an art gallery. I realized it wasn't really about doing crazy makeup, it was about unifying that feeling of Picasso. I'm doing it in a chic and minimalistic way, but that feeling still comes across. I kind of matched the Spanish, flattened, center-parted hair by putting soap in the brows — really creating an oval face by making the eyebrows flat to the face and arched. And then we're exaggerating the ending so it feels like a stroke, like Picasso doing a curve."
For the uninitiated, soaping your brows doesn't mean lathering them up with Dial. Simply take a wet spoolie, rub it across a bar of plain soap, and style as you normally do with a wax or gel. (See Bustle's experiment here).
A big, powerful brow deserves a powerful lip, too, so Kabuki painted on Retro Matte Liquid Lipcolor in Feels So Grand. Literally. "It's all over my hands!" he says, waving his swatch-covered "palette" in the air. "You have to put it on, really, like a painting. I want the lip to feel dark. I don't want anyone to [have] a bright red mouth. It's got a dark luxe kind of feel to it — not so happy, a little more Spanish. It's a little bit of the bull ring." For girls with deeper skin tones, he mixed in High Drama (a dark berry) and Carnivorous (a burgundy) for adjustment.
Kabuki describes the skin as very golden, a "nice contrast to have with this graphic red mouth." No mascara went on the lashes, as the focus was on the artful liner. "We used a very dark black (Liquidlast 24-Hour Waterproof Liner) to do a thin line around the upper lash line," he says. "Then it extends and makes the same curve. It's almost like if a child drew an eye, or if Picasso drew himself with the big eyes. It's enough in itself to define the eye without going into too much detail. It's good unifying makeup for everybody."
The makeup was almost like the signature that an artist places at the bottom right of a painting — which would be, in this case, the collection of strong-shouldered dresses and guitar-shaped bags. "It has that spirit [of art] with the strong brow and the strong mouth, but you also get the delicacy feeling of a hand drawing with the eyeliner," Kabuki says. "It works with the hair to give you the feeling of a Picasso woman."