7 Easy, Glamorous Halloween Costume Ideas Straight From The Runway
Pascal Le Segretain/Getty Images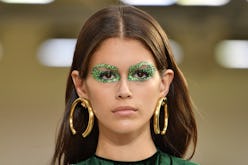 As kids, most people considered Halloween the one night where you got to stuff yourself silly with fun-sized candy bars and stay up way past curfew. And then in college, you probably can't even remember all of the "costume parties" that you went to in a single weekend. Now, Halloween is likely a healthy combination of both, whether you're taking your little ones around the neighborhood for trick-or-treating, or treating yourself to a night out with the ghouls. That doesn't mean that your costume has to be juvenile, though. There are several easy, glamorous Halloween costume ideas that you can find straight off the runways of fashion month — and most require little more than an on-point beauty look.
It wasn't all about no makeup-makeup and just-rolled-out-of-bed head... though there's nothing wrong with minimalism. Fashion houses like Rodarte, The Blonds, Giambattista Valli, and Dior dared to step outside of "simple" and play with colors, textures, and a whole lot of glitter. Often times, runway hair and makeup looks are meant to stay within the walls of Spring Studio. But rules are meant to be broken, especially on the scariest day of the year — even if you prefer glamour over gore. See seven scary good looks, ahead.
Beautiful Bee Keeper
The glitter hair at Giambattista Valli was nothing short of dazzling — but likely took a few good shampoos to remove. That's why these netted veils, teamed with glowing skin and nude lipstick, are so ideal — they're just as chic, but noncommittal. For seamless nude lips, try using a matte concealer on your lips, applied with a fluffy brush (as seen at 3.1 Phillip Lim).
Disney Villain
The Blonds' namesake designers Phillipe and David Blond were inspired by Disney's villains Cruella de Vil, Maleficent, the Evil Queen, the Queen of Hearts, and Ursula (as depicted by Patrick Starr, above). And while the villains are technically supposed to be "bad," they all looked so good — from their M.A.C. Powder Kiss-ed lips to their impeccably-detailed CND manicures. While Powder Kiss doesn't drop until October 11, MAC's black Matte Lipstick has the same velvety finish... which can act as a handy base for layers upon layers of shiny gloss.
Poison Ivy
At Valentino, Pat McGrath's artists applied dozens of Swarovski crystals along Kaia Gerber's lids and brows — by hand. Consider me green with envy. McGrath didn't disclose the shade name or product she used on the lids (which might mean that something is coming!), but Blitz Emerald in the Mothership II: Sublime Palette will do just fine.
Blissful Bride
"It's all about romance, and everybody needs romance in their life, don't you think?" Odile Gilbert, TRESemmé's NYFW Stylist, told The Zoe Report backstage at the time of the show. And if wedding bells aren't in the forecast anytime soon, then Halloween is a perfect time to try out the trend IRL. (Emma Stone did it, too!)
Pro tip: Prep the hair with dry shampoo for texture, and don't worry too much about being particularly careful with your application. "I don't have one way. Nobody has the same dress, so everybody is going to look different," Gilbert says. She attached the flowers with no particular rhyme or reason — "like I'm a kid who doesn't know what I'm doing."
Bedazzled Face Mask
"This season for my show, I took inspiration from old Polaroids I took of myself from 1996 experimenting with makeup and personas, gender bending looks and DYI hairstyles I created on myself before I had a runway and models to express my inspirations and ideas on for the world to see," Jeremy Scott shared in an Instagram post before his show. So if you're going to take inspiration from Scott, let your imagination run wild. Maybe your rhinestones are a larger piece of a robot getup, or maybe you can strategically place them on to mimic an animal's face. Just grab your tweezers, a strong eyelash glue, and get to work.
Queen Of The Jungle
"Rio [Uribe] wanted a human jungle," Laurent Philippon, Global Fashion Director and hair lead of Gypsy Sport, said in a release regarding the hair. "The collection is a celebration of diversity and genderless people. With the hair, we're embracing each model's individual style and the 'natural state of being,' so we turned to plants to symbolize our organic roots. It's such a beautiful and positive message." To make sure that everything stays in place, spray with a holding product — and grab a healthy handful of pins.
Girl With The Dior "Tattoos"
Whoever said that ballerinas only wear fluffy tutus and dainty buns is sorely mistaken. At Dior, Peter Philips for Dior Beauty was inspired by dancer Sharon Eyal — known for her graceful moves and graffiti eyeliner — and gave models bold lines to go with their wrapped updos. "She came in and at first, I thought she had a tattoo on her face which was very intriguing, but it was actually makeup," Phillips told TZR backstage, showing reporters a video of Eyal at the show's video test. "How she approaches using makeup is totally unique and very unconventional. As a makeup artist, it's very strange to see someone else applying makeup as a choreographer. She doesn't think about how her makeup is going to look [in the end]. She takes a crayon — or a pen, whatever she is using — and makes gestures. It's very poetic. She uses products like an extension of herself, almost like the steps you'd see on a dance floor."