The Prettiest Eyeshadow & Lipstick Looks From Milan Fashion Week Spring/Summer 2020
Shutterstock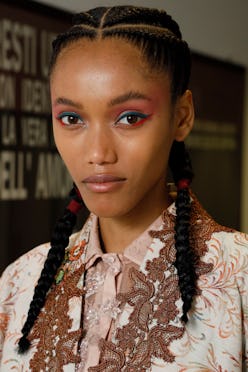 As soon as the first paint-splattered, Picasso-inspired model stepped onto the Moschino runway, I knew: Milan Fashion Week Spring/Summer 2020 makeup trends would not be for the faint of heart. Throughout the week, designer after Italian designer presented looks that proved this theory to be true, from the bleached brows and harsh shadow at Prada to the glitter-dappled under-eyes at Fendi. Covetable? For sure. Wearable? Not exactly.
In fact, makeup artists in Milan took traditionally wearable looks — like black eyeliner and red lips — and tweaked them just enough to elicit a double-take. At Moschino, makeup artist Kabuki extended black liquid liner above and beyond the lash line and paired it with an in-your-face red lip. The goal: to "evoke Picasso, but in a minimalistic way," as he told Vogue. Meanwhile, Pat McGrath similarly subverted expectations at Prada, where she gave select models something of a modern Sedgwick eye. The harsh line of black shadow below the brow bone and above the crease — especially when contrasted with bleach-blonde eyebrows and a gash of red lipstick — is so cool it hurts.
Ahead, discover the six boldest beauty trends from Milan SS20 Fashion Week (and OK, fine, a few rock-it-in-real-life looks, too).
Glittery Under-Eyes
The low-key hairstyles at Fendi needed a high-key foil, and they found it in the form of shimmery, glittery under-eyes. What makes this look so innovative? It takes a standard SS20 trend (sparkly eyeshadow) and quite literally flips it on its head. A more wearable take was seen at Vivetta, where the inner corners of the eyes were brightened with a touch of pink shimmer. If you want to try either option for yourself, play around with biodegradable glitter.
Black Lipstick
When I saw black lipstick make an appearance at London Fashion Week — via Marques'Almeida, then Molly Goddard — I assumed it was a nod to Britain's rebellious, punk rock history. Now that I've seen the look show up in Milan at Max Mara — via a shade of lipstick I'd call "blackberry," with hints of deep red — I've changed my mind: Three makes a trend, and black lipstick is definitely trending.
Bold Brows + Red Lip
The classic Italian pairing of bold brows and red lips will never go out of style, as evidenced by the makeup at Moschino, Dolce & Gabbana, and Versace. Moschino's take had more of a '50s feel (long tails on the brows, a blood-red lip), while Versace's had an '80s vibe (brushed-up, Brooke Shields brows and an orange-red lip). Whatever shape and shade you prefer, there's really no wrong way to wear the pair.
Black Eyeliner
You want wearable? Look no further than Blumarine, Genny, and Fendi. All three showed their own take on everyday black eyeliner. At Genny, a thin line of black pencil was rimmed around the entire eye. Fendi's version was similar, but smudged. Blumarine opted for an exaggerated flick of liquid liner.
Sunset Eyeshadow
The season's trendiest eyeshadow shades — sunset hues — showed a softer side of Milan. And in true sunset fashion, no two looks were alike; from the pop of neon orange at Peter Pilotto, to the bronze-y hue at Alberta Ferretti, to the burnt orange shade at Giada, to the wash of pinky-peach at Antonio Marras (done by Tom Pecheaux).
The Modern Sedgwick
The influence of '60s style icon Edie Sedgwick lives on. Her go-to black liner look, always drawn into the crease of the eye, was emulated at London Fashion Week — but exaggerated in Milan. Instead of thin liner, Pat McGrath blessed Prada models with a thick swipe of shadow from her Mothership palette. The effect was less gamine, more goth, and very much McGrath.