Doing This In Lieu Of A Gift Could Make For The Most Memorable Holiday Ever
Rawpixel.com/Shutterstock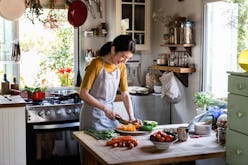 Everyone has that friend who's notoriously tough to shop for. Perhaps it's because she already buys herself everything she wants, or because she's always telling you not to get her anything. And then there are those loved ones who are simply hard to please — so you don't dare risk picking out clothing, beauty products, or anything that might not be exactly to her liking. In any of these cases, experience gifts might just be your best bet.
What exactly constitutes an experience gift? Think outside the box — literally, the gift-wrapped kind — to things to can do or places you can go instead of swapping traditional presents. This could involve tickets to something she loves (a movie, a play, a concert), or it could be more of an act of service on your part (like cooking dinner or offering up a free night of child care). The key to this kind of gift is being in tune with what the recipient is into. Maybe she's always wanted to try a pottery class, or in desperate need of a getaway from work stress and there's a nearby town she's still never visited. These are great jumping off points for you to think of an experience that's totally thoughtful.
Another reason giving experiences is great is because they're less likely to produce extra stuff, meaning reduced waste compared to the usual gift exchanges. The recipient gets to use it up, not stash it in a closet to be forgotten about — so it's practical and potentially more earth-friendly.
To get you started thinking about what ways you can celebrate those on your list this year sans traditional gifts, see ahead for seven examples of experiences they won't soon forget.
Plan A Road Trip
A road trip can be a create way to bond with friends or romantic partners: It's an adventure all in itself. If you've never traveled together before, start of with somewhere just a couple hours away with lots of interesting stops along the way to keep you busy and not cooped up for too long.
A Surprise Visit
Sometimes the greatest gift you can give is yourself! Surprise a friend or family member who lives out of town with your presence.
Host A Movie Night
Great for friends on a tight budget, an at-home movie night can actually be just as fun as going out. Don't forget themed treats, popcorn, comfy seating, and cocktails.
Support The Arts
Craving a little culture? Treat your loved one to a trip to the museum or take them to a play or dance performance, especially if it's not something they often get to do. You'll both leave totally inspired.
Offer Your Services (Or Someone Else's)
If someone on your list is a busy mom (including pet moms) who hasn't gotten a night off in a while, offer your babysitting (or petsitting) services — or offer to hire someone to do it so the two of you can enjoy her night off together. Ditto for someone who could benefit from a professional house cleaner or organizer. Try and think of a service you could perform or outsource that would make her life easier, even if it's just for a day.
Head To The Amusement Park
Tap into your inner child and treat her to a nostalgic trip to an amusement park. It's a great way to disconnect from the daily grind, laugh/scream, and just be kids for a day.
Cook Them Dinner
If you posses culinary talents, a dinner for two — or the whole gang — might be the best gift you could give. Make it playful by serving vintage cocktails or having another unique theme to your dinner party to make it even more memorable.