This "Old" Shoe Trends Is Back This Fall
Cornel Cristian Petrus/Shutterstock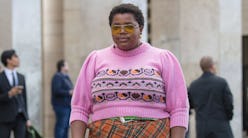 The fashion trend cycle is fickle: One season something is of-the-now and the next, it's passé. But for most it's impossible to buy an entirely new footwear collection each season. Not only is it expensive, it's also not exactly environmentally friendly. Which is why the best of 2019's fall shoe trends are those that are already stacked somewhere in your closet. Sure, if you're always curious to discover what's next, then keeping up on the latest is a non-negotiable. However, sometimes a trend can and should stay around longer than a single season.
During fashion month, Bottega Veneta's square-toed heel was the freshest street style It-shoe spotted through every city. But, there were also a handful of styles that are current, despite having already been around the block a few times. Going beyond a simple black boot, these styles elevate a look, but don't feel so trendy that you'll be tired of them after a few wears. On the streets of New York and Paris, it's refreshing to see women eschewing the route of only wearing new trends and opting for footwear that may not be considered 100% novel but still 100% authentic to their personal style.
Ahead, see which six old shoe trends are dominating the street style scene right now and shop the ones you're proud to wear for many seasons to come.
White Boots
You can trace white boots back to the go-go era, but in recent years the attention-grabbing footwear trend has remained a street style favorite. Since they're already bold by nature, consider pairing them with something refined and relaxed to contrast; like a t-shirt tucked into a mini skirt and an oversized cardigan layered on top.
Chunky Sneakers
While the raft-sized sneakers of a few years ago have become significantly less prevalent of late, chunky sneakers still remain a favorite choice. If street style during fashion month proved anything, it was that these bouncy kicks reign supreme in the versatility category. Wear with dresses, slacks, jeans, or anything else you please.
Python Print
Snake prints have been slithering their way around the street style circuit for a few seasons now, with innovative interpretations cropping up along the way (like the purple pair shown above on Eva Chen). The great thing about python-print shoes is that even if you're wearing a simple all-black ensemble, they add the perfect pop to pull the whole outfit together.
Kitten Heels
Kitten heels have re-entered the trend cycle over the last few years that you're likely used to them by now. While initially, they may have felt a bit too prim and proper, once you walk around in these beauties you'll realize why this comfortable and chic footwear trend is having its fair share of time in the spotlight.
Cowboy Boots
The western boots trend is so bold you wouldn't be crazy to think one or two seasons is enough — but for 2019 that doesn't seem to be the case. Editors, influencers, and off-duty models all marched around in their cowboy boots during fashion month and the result was pretty darn cute.
Combat Boots
The utilitarian trend is the kind that seems to cycle in and out of the zeitgeist every year or two. Right now it feels like the fashion crowd has their mind set on this moody shoe, which means a pair of grungey lace-up boots is in your future.