Confirmed: Bottega Veneta Is Still The Brand On Everyone's Lips
Courtesy of Bottega Veneta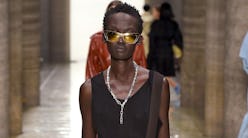 It's undeniable, all eyes are on Daniel Lee. The newly-appointed Bottega Veneta Creative Director unveiled his second runway collection for the 53-year old Italian fashion house during Milan Fashion Week and it was — as anticipated — met with distinct praise. Since taking the reins at the label last year, 32-year-old Lee has quietly reinvigorated the design codes with a beautiful balance that oscillates between classicism and modernism. Bottega Veneta's Spring/Summer 2020 runway collection was a "focus on process and clarity," he describes in the show notes. "This collection plays with proportion, soft structure cutting through tension and technique with a clean new ease."
Over the last several months, the "New Bottega" has swept social media and infiltrated the fashion world offline, too. Lee's signature square-toe heels and pouch clutches have become the new cult-favorite It items, spotted on those sitting front row at every runway in Milan. More to the point, if you're on Instagram, then you're likely already well-acquainted with his covetable creations and anyone in attendance at his show yesterday was anxiously awaiting to lay their eyes on what surely will be the new must-own items. He sent models dressed in Spring/Summer wears down a runway that featured an Intrecciato floor that mirrored Bottega Veneta's classic woven leather design motif; arguably, a smart way to pay a nod to the brand's history while introducing a fresh vision.
The color palette was overall calm and toned-down, with looks crafted in approachable black and brown hues with pops of tapioca and a range of blues in the mix. Exceptions included a pair of gold and saturated orange party dresses that punctuated the sea of neutrals they were sandwiched between. In natural Lee form, though, the festive frocks were styled with delectable, reworked staples like a drapey trench coat or a signature bag slung across the shoulder.
The accessories were highly anticipated thanks to their cult-favorite predecessors — and they didn't disappoint. Come spring, you'll have your choosing between a smattering of chic options including Intrecciato heeled sandals, chunky chain chokers, futuristic sunglasses, and, of course, a slew of sleek shoulder bags and clutches that translate to any scenario the Bottega woman happens to find herself in. They build on many of the cult favorites from last season, morphing shape or size.
Ready-to-wear silhouettes included modern suiting (think blazer and knee-length shorts) and sultry knit mini dresses with asymmetric necklines that felt referential to the looks of the early '00s. Lee also experimented with leather shapes like a burnt orange oversized trench coat and a gathered waist mini dress. On the men's side, standout moments included leather basketball shorts and a wide-sleeved, wide-legged denim matching set that would look at home on the likes of Timothée Chamelet.
Overall, Lee's latest vision for the Italian house feels fresh and in line with his message of authenticity. "Bottega Veneta is about the individual, it's for you," he concluded in his show notes. The remainder of fashion month will no doubt give showgoers the opportunity to illustrate how Lee's design adapts to the individual and if his quick rise in popularity is any indicator, there's plenty more to come on all fronts.