Meet The Fall Boots That'll Be Your MVP Next Month
Christian Vierig/Getty Images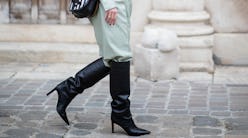 Now's the time to start prepping your wardrobe for the coming cold. Soon the weather will change and the temps will take a dip, prompting you to move the strappy sandals and open-toe mules you've been living in the past several months to the back shelves of your closet and make way for a line-up of autumn-friendly shoes to take their place. Namely, a new pair of boots. To this end, the first step in kick starting your new-season shopping list is to consider the key boot trends for fall 2019 to invest in.
On the menu for autumn, you'll notice a few tried-and-true favorites, such as snakeskin and croc-effect boots, alongside other mainstay animal prints — a reflection of the continued popularity of such prints in the overall trend sphere. Combat boots are another recurrent classic, but this time around they're being done with serious lug soles for even more of that edgy, rebellious appeal. In terms of vintage revivals, the '80s influence comes through in the form of slouchy boots, while square-toed boots are a subtle nod to the '90s. If you're looking to make a statement, a bright-colored boot, sky-high platform, nouveau Victorian lace-up, or floral-printed style should do the trick. And, in a rare moment of practicality, the latest collections are delivering utilitarian weatherized boot options that are well suited to shielding out the wet and cold, while still being (surprisingly) stylish. Continue below for a rundown of the biggest boot trends to put on your radar this fall, plus a few standout examples to start shopping now.
Slouch Around
Look for tall boots with a relaxed, slouchy shaft or a pair that's cinched in places to create some extra volume. The style has a decidedly '80s vibe without subscribing to the usual ostentatious aesthetic of that decade. Wear them pulled over a pair of skinny or slim-fit jeans, or with a midi-skirt that hits right about where the boots stop.
Snake Charm
No surprises here. Serpentine prints have been dominating the fashion scene for months now, and the Year of the Snake isn't over yet. Snake print boots will continue to be big through the autumn and winter months, in all manners of shape, style, and color schemes.
It's Hip To Be Square
Squared-off toes have become increasingly popular in recent seasons, thanks to the surge in '90s design references across the industry. While pointy toes and almond shapes will always be in style, this fall it's boxy tips and square-toed boots that belong at the forefront of your footwear rotation.
Stomping Ground
The faint of heart need not apply. This new score of lug-sole boots and chunky combat styles are all about conveying a spirit of irreverence and attitude. The best way to play into this trend? Subvert the tough-girl aesthetic with an unexpectedly feminine pairing, like an ultra-girly lace frock or frilly prairie dress.
Crocodile Style
Piggybacking on the reptilian persuasion of the snakeskin trend is croc-embossed leathers. The imprinted leather has a similar, but subtler, exotic appeal, but feels more on the side of elegant and sophisticated than edgy or trendy.
Color Wonderful
As if the end of summer wasn't hard enough to accept, fall tends to drive the point home with a shift towards deeper, moodier colors. But this season, you'll get to extend those bright, splashy vibes of summer into your autumn wardrobe. Colorful boots are having a moment, with shades of purple, green, blue, and beyond saturating the market.
Victorian Values
Though they may draw influence from late 19- and earlier 20th-century styles, these updated variations on the Victorian lace-up boot are hardly stuffy or prudish. The sculptural heels, strappy laced plackets, and inventive use of textures and colors (think high-contrast toe caps, glossy patent leather, and nubby tweed) make these granny boots the new go-to for modern fashion girls.
An Elevated Position
Summer might have been all about barely-there sandals and diminutive kitten heels, but autumn is ushering in a more substantial wave of footwear. Chunky, towering platforms are making a triumphant return this fall, to which the only correct response is, let's get high.
Fall Florals
Blossom-print blouses and boho midis feeling a bit stale? Swap out your floral clothes for floral boots instead. The pattern takes on an entirely new life in boot form, and feels a lot cooler and fresher than the standard ways you're used to wearing it.
Animal Magnetism
If you needed any further convincing to take a walk on the wild side, here's another reason why you should. Fashion's obsession with all things leopard lives on this fall as boots in the classic print continue to top the list of must-have shoes. But you might also consider less traditional animalia options, such as tiger and zebra stripes, piebald cow prints, bold giraffe splotches, or the more minimalist cheetah spots.
Weather Permitting
As you welcome the new season, you also welcome the new weather that comes with it. Rain and — shudder at the thought — snow, will inevitably take over the forecast as we move further into fall and then winter, so be prepared with boots that are up to the task. Practical design details, like shearling lining and waterproof rubber are key in guarding against the elements.