Here's What NYT Fashion Director Vanessa Friedman Thinks About Her Own Clothes
Jacopo Raule/Getty Images Entertainment/Getty Images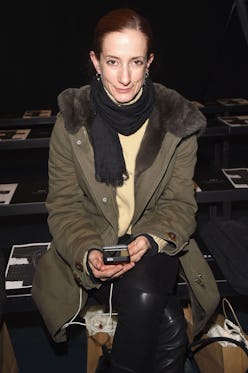 With her bright red hair, Vanessa Friedman naturally stands out in a room. Of course, her ability to look effortlessly chic in anything doesn't hurt, either. Born and raised in New York, Friedman went to Princeton for college and began her career in journalism soon after. Her focus has always been fashion. She began her career as a fashion correspondent for the Financial Times, became the fashion features director for InStyle UK, and later took on the role of the fashion editor for FT — making her the first person, ever, to hold the position.
In 2014, Friedman became the fashion director and chief fashion critic for the New York Times. Her interest in fashion goes beyond discussing what's trendy, and highlights the very real sociopolitical effects of the industry on the world at large. Friedman spoke to The Zoe Report about what makes clothes make her feel comfortable, why street style is a big lie, and how we can do more for the environment when it comes to fashion.
What piece do you own, clothing or accessories, that instantly makes you feel more confident?
I mean, most of my clothes do actually, now. One of the benefits of having done a lot of experimenting with clothes is that you end up with a wardrobe, I think, that does generally serve your purposes.
How do you define your personal style?
Functional, comfortable, elegant, unidentifiable by brand.
Would you say that's because of your career, or is that a personal choice?
I mean, probably both.
I think the problem with fashion is there's too much of everything. I don't think the issue is lack. I think the issue is an overabundance. It creates option anxiety.
How has style played a role in your career?
It's hard for me to say that. It may be that other people can say it better, because they spend more time looking inward, or from the outside in. I clearly spend a lot of time in my career thinking about what role style plays in other people's lives, so it would be hypocritical of me not to have thought about what role it plays in my own life.
But as a reporter, in general, I don't want to think about my clothes once I put them on, and I want them to communicate the values that I'd like interview subjects to see, or to get from me, which is professional, substantive, smart, broad-thinking, listening, someone who pays attention.
What fashion category do you feel is the most lacking currently, and what do you think we need to be seeing more of?
I think the problem with fashion is there's too much of everything. I don't think the issue is lack. I think the issue is an overabundance. It creates option anxiety. It's confusing. And, I think, when there's so much stuff, people are more lazy with their thinking about what they're buying, why they're buying it, how it will function in their life.
Fashion is there to make your life easier when it works, when it's successful. That's what clothes should do. They should make your life better and easier. And that also requires you to think,What will make my life better and easier, and how will that last, and what will it mean? And I think one of the things that you realize as you move through adulthood is that at a certain point, your style stops flipping and flopping. You settle into yourself because you know who you are, and you know what you wear. And if that's true, then you should be able to invest in things that will last for a very long time, and that's certainly where I am.
Most of my clothes, I've had for a very long time. I wear pretty much the exact same thing every single fashion week, and realized at one point that if I lost my suitcase, I would be in very deep trouble, because most of the stuff hasn't been made for years, but none of it looks dated, and none of it looks tired, because it's really well made and it is not time-sensitive. So that, for me, is what I'm looking for in a garment — also, something I don't have to iron. And I wish that designers, brands, anyone making stuff spent more time thinking about quality and longevity. So in a way, I guess, maybe that's what I think is lacking: I think people are in so much of a rush to make stuff that they don't spend enough time thinking about the stuff sometimes.
What is your typical uniform when you're working?
I probably wear more pants now than I used to. I have a pretty basic color palette, so it's like black or white, silver or gray, and in the winter it usually involves some sort of boot. I wear a lot of jackets from Dries Van Noten and a lot of Alaïa dresses and skirts that I have accumulated over time, because they're very expensive. But if I amortize the cost per wear, I think it's almost down to zero.
If you really want to make a difference, the single most effective thing you can do is buy less and keep it longer.
When you do go shopping, what item do you gravitate toward immediately? What's the one thing that you're always most enticed by?
I'm not a big shopper, and as soon as I started having kids and working full-time, I just... I'm not in a situation where I have a lot of leisure time. I tend to shop when I'm traveling, because that's when I am by myself. But the bulk of my wardrobe is not new.
How do you consider sustainability when it comes to how you're consuming fashion? I know you say you have a lot of pieces that you've used for a long time, and that you really only replenish items that you are cycling through, but are there any other practices that you incorporate?
I think the most important thing when it comes to sustainability, and I feel it very strongly, is that people should buy less stuff, really. I mean, that is the single fastest fix that anyone can do when it comes to fashion and the environment. Frankly, it is almost impossible for a consumer to know all of the information about what goes into a garment, even with companies that claim to be transparent. So if you really want to make a difference, the single most effective thing you can do is buy less and keep it longer.
You've lived in New York for 10 years, and before that, you lived in London for 12 years. How have those two places shaped your style?
I think you wear different things in an urban setting than in Wyoming, or the woods of Ontario, which are two of the places that I spend a fair amount of time. New York and London are both grayer cities, and the architecture is higher and more modern than, say, in California. And I think that does affect how you dress, both in terms of, clearly, what you need in terms of warmth, but also in terms of color palette, and line, maybe, rigor of line.
Have you ever felt restricted by your red hair when it comes to the clothes that you're wearing, or the colors that you're wearing?
No, because I chose it. I feel liberated by it. My hair is my color palette. I don't have to worry about the rest of it.
Which international stores, aside from major designers, do you like?
I think 10 Corso Como is fantastic. Every time I'm in Milan, I go to see what's in the boutique, as well as what's in the bookstore and the gallery. I think the same for Merci in Paris, and Colette, which is now closed. And Selfridges in London is fun to see. I haven't really shopped in London for a while.
Street style is just advertising now, under another name.
What's the most recent item that you bought?
I bought some silver baroque pants with matching boots from Dries Van Noten.
With the rise of bloggers and street style, and the consequential seeding by brands, how do you feel that this has changed people's perception of fashion?
Street style has become a big lie, which I think is deeply unfortunate but probably predictable. And I hope that people are smart enough to see through that. Street style is just advertising now, under another name.
Which item in your closet have you owned for the longest?
Oh, my god, wow. I have a pair of black silk culottes, culotte pants from Duro Olowu that I think I got in the mid to late '90s. I have a dress from my mother that probably came from the '50s or '60s — '60s maybe — an evening gown. And then I have a lot of stuff from between '98 and now.
And do you keep them because you are still wearing them frequently?
Yeah, yeah, yeah. I don't keep stuff I don't wear. My closets are not that big, nor is my house. I don't rotate things into storage by season; I'm not that organized.
This interview has been edited and condensed for length and clarity.