5 Halloween 2019 Nail Polishes That Aren't Dark Purple (But Still On Theme)
OPI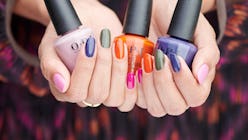 While relatively dramatic, there are two nail polish shades that seem to work each Halloween without fail: the always popular candy-apple red, and almost-black purple. You know the one — it's that dark, moody color that catches your eye each time you step into the nail salon in October. Though no one can deny its power — and the fact that it always looks good — you may be looking for new Halloween 2019 nail polishes if you've gone back to it year after year.
Fortunately, the holiday-conscious lacquerista has never had it so easy than fall 2019. With Halloween just a little over a month away, a plethora of glam-goth inspiration has arrived — via Gucci's black glove-adorned Spring/Summer 2020 collection, Kendall Jenner's latex Emmys 2019 dress, and the multitude of dark manicures spotted at the awards show. So, go for an all-black manicure Oct. 31 if you've always been attracted to almost-there shades; a touch of classically romantic glamour is very in this season.
Still not sold on making the leap, but want to try something new? Below, five on-theme Halloween nail polish shades specifically curated for 2019 (without a black-purple polish in sight).
Charcoal
There's a reason lacqueristas leap for dark-as-can-be purples as soon as October arrives: they're almost — but not quite — black manicures. In lieu of yet another dark purple manicure, just go for charcoal, a slight variation on the tone itself. ORLY's fall 2019 Dreamscape collection just introduced the nail polish shade "Into The Deep", a dreamy creme gray that's as dramatic as it is neutral.
Pumpkin
Want the same festive feel of fall-inspired nail art, sans the required DIY skill (or trip to the salon)? Opt for a pumpkin-colored nail polish. Two coats of the warm orange shade will help you get into the Halloween mood, and take you all of 15 minutes to complete yourself.
Dusty Lavender
Instead of reaching for OPI's iconic "Lincoln Park After Dark" once again, try out a lighter, more muted shade of purple from the brand for a change of pace — like the shade "Nice Set of Pipes" from OPI's recent Scotland collection. The dusty lavender color still offers a moody punch of color, but this time, it's tempered by notes of gray.
Midnight Blue
Give midnight blue a whirl if your heart is still set on an almost-black mani this Halloween season. Essie's blue-black shade "After School Boy Blazer" is a hit amongst fans — netting a nearly perfect rating on the brand's website — and offers a high-gloss finish that'll show off its colorful side just right.
Slime
Halloween and slime — they go together hand in hand. And as on-trend as the neon green shade continues to be, it's just as seasonally appropriate. Pick the eye-grabbing color (available via Floss Gloss' "Con Limon") if your costume this year is anything but subtle.