Gucci's Spring 2020 Collection Is Something Totally Different For The Maximalist Brand
Courtesy of Gucci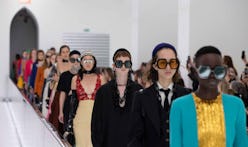 Bucking the notion that good things don't last long, Gucci designer Alessandro Michele proved he still has the magic touch. Michele has garnered a cult-like following throughout his five-year reign at the storied Italian fashion house, and this season in Milan he unveiled his Spring/Summer 2020 Gucci collection to a sea of eccentrically dressed attendees including the likes of Jared Leto, Iggy Pop, and A$AP Rocky. Prior to any of the anxiously awaited glitzy, maximalist creations that Michele's known for even hit the runway, however, he sent a sea of somber models down a conveyor belt dressed in all-white canvas garb, which decidedly resembled straight jackets. In the show notes, Michele nodded to the writings of Foucault, suggesting that fashion is meant to eschew societal control, and stand for freedom and resistance. Once those 60 some-odd individuals passed through the moving runway, the mood shifted and in marched a new wave of Gucci.
You've probably come to know and appreciate Michele for his quirky, grandma-like sensibilities, and there were still hints at these influences including chunky sunglasses chains and the occasional muumuu, but overall this felt more subversive than his usual direction. There were whips, thigh-high boots, patent leather collars, and lace-inset slip dresses that will likely be hard to keep on the shelves come spring. The mood felt like a well-balanced amalgamation of '70s-era Gucci and a moodier take on texture and shape.
It was hard not to notice the volume of the brand's signature prints has been turned down a bit. After all, Gucci's loud florals and stripes have been synonymous with the creative director's overhaul of the brand. While there remain to be a handful of eye-grabbing patterns like polka dot, seashell, and plaid, for spring it seems the new way to embrace the bold Gucci look is by way of color blocking. Lavenders were topped off with lime green knits while pale pink evening dresses were complemented by fire engine red thigh-high boots.
The aesthetic eschewed the expected Grey Gardens approach and opted for subtle erotica instead. Or not so subtle, judging by the words "Gucci Orgasmique" plastered on the wall outside the show and on a number of the clothes as well. A myriad of boudoir accessories like whips, patent-leather chokers, long gloves, and thigh-high boots were teamed with everything from lace-inset slip dresses to sheer flowing skirts in saturated color palettes. To contrast, Michele included a covetable handful of suiting looks that'll give the '70s-loving Gucciphile plenty to play around with.
Whips and choker aside, on the accessory front Michele offered up a smattering of quirky options ranging from the aforementioned glasses chains to oversized sunglasses. The footwear was versatile and included pointed-toe flats with chain embellishments as well as neutral-hued strappy heeled sandals and colorful platform boots. Michele didn't stray too far from his design codes; there were still bright tights in the mix as well as some fishnet and all-white options.
The fashion crowd now heads to Paris for the last installment of Fashion Month. Michele concluded the Italian leg with his take on the current state of fashion, which includes an acknowledgment of the climate. "For every guest at the Spring/Summer 2020 show, Gucci will plant a tree in the Municipality of Milan, thereby completely compensating for the emissions connected to the event," Michele stated in the show's collection notes. This follows the brand's announcement that it is now carbon neutral.