Kendall Jenner Just Wore Latex To The Emmys & Here's Why It Works
Alberto E. Rodriguez/Getty Images Entertainment/Getty Images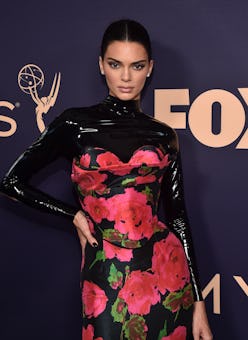 Kendall Jenner took to the 71st Emmy Awards' red carpet in an audacious floral print dress — hot off the heels of its Spring/Summer 2020 debut, no less — that some have dubbed the 2019 Emmy Awards' most controversial look. This is mainly because so many are divided in their opinions of the outfit. But, no matter where you stand on the ensemble, everyone can agree that seamlessly executing a full runway look in real life is no easy task. And, in the case of the model's interpretation of Richard Quinn's gown, the outcome was incredibly daring and unforgettable.
Among the qualities that made the floor-length ensemble such a knock-out was the second-skin latex turtleneck layered underneath its corset bodice, which was made complete with a molded sweetheart neckline, creating the effect of cone-shaped cups. While, at first glance, you may have presumed that the eldest Jenner sister could have done without the risqué bodysuit, it's actually what makes the look a true home run. The bold floral pattern combined with this unexpected contradictory layering piece escalated what would have been a traditional flowery moment into an epic red-carpet look.
In a sea of baby blue dresses and two-toned ensembles, the front-row fixture's look was a breath of fresh air — giving viewers a true fashion moment as the brand intended. Doing what she does best (holding no bars), Jenner mirrored the brand's runway styling, keeping accessories to a minimum and ditching the matching gloves seen on the catwalk last week. Her makeup look was soft with a smudged smoky eye to match the rebellious edge. Her sleek updo and sharp middle part only added to this ultra-chic red carpet look.
U.K brand Richard Quinn showed its spring collection during London Fashion Week; presenting a lineup that was unabashedly lavish and reflected the label's escapist vision. Dialing up the glamour, Quinn built upon the signature details that his eponymous label is known for and conjured up couture-level craftsmanship.
Ultimately, the pieces in the latest collection (Jenner's mermaid gown included) were created with one sole purpose: to spark joy in those "working in fashion or wearing it," described the collection's show notes. Meaning, the look was designed to be pure amusement for fashion lovers, and was not to be taken too seriously. But its bright colors and use of unexpected materials aside, this dress moment was serious, indeed, and its beauty was in the fine details. From the well-tailored fit to the elegant folds, it was apparent both on the red carpet and on the runway that these intricacies speak to the brand's eye for precision.
Jenner (and her team of stylists) opting for Quinn's wearable piece of art is more than fitting considering her model status and effortless ability to influence a trend both on and off the red carpet. Not to mention, this was the reality TV star's first Emmy attendance at which she was set to present alongside her style maven sister, Kim Kardashian West — so it made sense that she would want to stand out and mark the occasion. And what better way than to give the people a fashion moment that causes both buzz and controversy via a latex bodysuit?