This Saving Mistake Is Why You Can't Make Your Budget Goals
GaudiLab/Shutterstock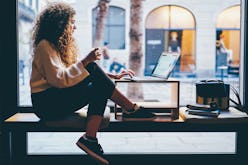 Most everyone could benefit from better financial habits, whether that means cutting out an expense that's not serving you or consolidating loans. Because it's not a requirement to learn money management skills in school — and because not everyone's parents teach those principals or possess them themselves — it's incredibly common to flounder (and occasionally fail) when it comes to your finances. But the good news is, no matter what common saving mistakes you're currently making, getting back on track might be a lot more doable than you even thought possible.
Though Nicole Lapin currently is regarded as a bonafide financial expert — even penning two best-selling books about how women can be the boss of their bank account — that wasn't always the case. Like so many others, she once found herself overspending and struggling to make ends meet. Over time, however, she tapped into all the best practices and hacks to reign it in and regain control and now she's happy to share what she's learned with others.
Money mistakes are easy to make, and chances are you could be doing a lot better when it comes to saving. From downloading all the money saving apps you can find to organizing your office, there's not a lot people won't do to try to get their financial lives in order. But according to Lapin, there are likely a few things you're forgetting about that could make all the difference in the world. Ahead, find out which common practices you might be making that can hurt your chances for saving — plus, exactly how to fix them.
Not Having A Plan
You plan your fitness schedule, your special occasion outfits, and your monthly beauty services — so why should your spending habits not get the same treatment? "Just like [nutrition] experts recommend an eating plan as a more long-term approach to dieting, I recommend a spending plan instead of a crash money diet," Lapin explains. "A sustainable spending plan is broken down into the three E's: essentials (70 percent of your overall monthly budget for basic expenses like rent or mortgage, utilities, food, transportation, insurances); endgame (15 percent of your monthly budget for things for your future like savings accounts, investment accounts, retirement accounts); and extras (15 percent of your monthly budget for, well, whatever does it for you). Set this budget and use whatever tools work for you to track your spending, and then set regular check-ins to make sure you're staying on track."
Piling Up IOUs
"We all have that friend or family member who always runs out of time to pick up their contribution to a party or 'forgets' to pay their tab that you covered," explains Lapin, who suggests using an app like Zelle to send, receive, and split funds quickly and effortlessly — no IOUs necessary.
The financial expert also adds that group outings might actually be able to benefit your credit, if you're using a card that gives back. "If you have a rewards credit card that gives you a bonus at restaurants or at grocery stores, for example, volunteer to pick up the tab and get the rewards points your credit card offers, then have them pay you back," she offers. "The money will be in your bank account before you get your receipt — and you can redeem those credit card points for whatever you want."
Ignoring Your Score
It can be stressful to come face to face with your credit score — particularly if you fear it's less than stellar. But, as Lapin explains, not knowing where you stand isn't serving you. "Your credit score is connected to the interest rates you get on your credit cards, mortgages and car loans — it's essentially your financial report card," she says.
Additionally, if you have old credit cards you still owe on — don't be tempted to toss them. "Instead, keep them alive and just put one recurring bill on them," she recommends. "You want to make sure you're using only using a small amount of the max credit you have available to you. Also, I know it sounds annoying, but pay your bills on time. Seriously, it's one of the biggest factors to acing your score."
Being A (Sale) Subscriber
Constant sale emails from your favorite retailers can be tempting — which is why it's probably for the best to just get rid of them entirely and unsubscribe. Face it — these so-called sales probably aren't actually saving you a dime. If the process of unsubscribing feels like a lot of time and effort, Lapin suggests sits like Unroll.me that can tackle the task for you. "You can also set up a separate email account for shopping so you're not tempted to buy things you don't need," she continues. "But then when you do decide you are buying something, you can find the coupon code you need to save big."
Not Being Web Savvy
Despite the aforementioned advice, Lapin isn't suggesting you give up online shopping completely — just learn how to be smarter about it. "If you do end up shopping even after unsubscribing from sales emails, you might notice that pair of shoes you were spying on keeps following you around the internet in the form of ads on the side of your email or on Facebook" she says. "Go to your browser and click 'clear cookies' so you're no longer tempted. That way you're not leaving a trail for retailers, but indulging when you want to!"
You can also still snag those items you've been lusting after once they go on sale, which you can find out via services like Shoptagr which will send you alerts. "Also, you can install Honey in your browser and it will search for any coupons online before you check out of a site automatically." That way you can get what you want while you keep saving.