The Container Store's Clearance Has All The Essentials You Need For An Organized Office
Floral Deco/Shutterstock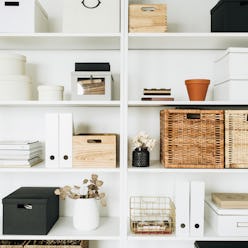 As the first month of 2019 comes to a close, you may have already kicked off your New Year's resolutions to drink more water, start a new workout routine, or cut back on coffee. But what about getting your home office organized? If that task has yet to be checked off the list, it's time to get down to business. A clean work space is an essential component to productivity, and lucky for you it can be achieved with just a couple of purchases from The Container Store's clearance sale.
Known to be the mecca of all things organization, The Container Store has a selection of products on discount that'll whip your office into shape in no time. For shoppers who are working with smaller desk dimensions, the Aqua Poppin Monitor Stand may be the answer to your prayers. Now on sale for $24.99, the stand provides not only a spot to hold your computer but a space for storage underneath. Below the shelf, slide a few small trays of office essentials like paperclips and thumb tacks.
Don't have a lot of space, but need shelving? For $29.99, you can pick up a floating shelf to mount above your computer. Or, for even more storage, opt for a vertical 4-tier tower that'll cover less floor space than a horizontal unit. The shelves can be used to hold folders and books as well as more decorative items such as photo frames and greenery.
To keep your important papers hidden, scoop up both small and large storage baskets for a reduced price in the clearance sale. Woven bins are a more visually appealing option for tucking away everything from files to stationary, while also maintaining order.
As for all your electronics? Snag the Acrylic Smart Organizer for $14.99 to keep your phone, plugs, and charger all in one place. Take care of the cords, too, with the Yamazaki Large Adhesive Web Cable Holder for just $3.99. The sleek white holder attaches to the side of your desk and prevents the wires from tangling on the ground.
There's no better time than the start of the new year to declutter your office. Ahead, shop 12 items from The Container Store's clearance sale that'll have you well on your way to a neat and tidy work space.