This Cocktail Set Is The Perfect Holiday Gift For Your Whiskey-Loving Friends
@wandpdesign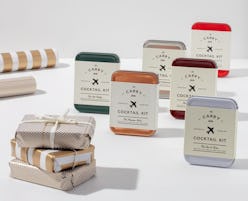 Very likely, you're knee-deep in holiday gift shopping and making your way through a list that could include anyone from a sibling to your hairdresser. It can quickly get overwhelming to pour over what type of present each person might want to receive this year (you're not a mind reader!), so it's always helpful to have a few reliable options up your sleeve that will be used and appreciated by practically everyone. That said, because the holidays tend to be a time to indulge and imbibe, a cocktail gift set just might be that foolproof option that suits several people for whom you're shopping.
Whether your gift recipient is an avid cocktail enthusiast (as in, has their stylist bar cart stocked with all the essentials) or just someone who's known to whip up a simple seasonal cocktail when the occasion calls for it, there's likely a kit that will perfectly suit their level of skill and interest — from a portable version that's perfect for playing bartender on plane trips to a pack that includes everything you need to make your own absinthe. And the best part, they won't all blow your budget.
So, regardless of what poison your loved one prefers (save for the wine lovers, who would probably benefit more from some cool, vino-friendly gadgets) one of the kits ahead should help them indulge in their mixologist fantasy and craft their fave cocktail on the fly — even literally, in one case.
Get fancy in-flight with this travel champagne cocktail kit, which includes a 1/2 ounce jigger, elderflower syrup, a mini bar spoon, a linen coaster, and even a few bubbly flavored gummy bears by Sugarfina. All you need to add is the champagne.
Whiskey lovers will appreciate this Old Fashioned kit that packs in some Hella bitters, sugar cubes, a spoon, a jigger, and a muddler to mix it all together. If you want to add on to this gift, pick up a great bottle of bourbon and you've got practically everything you need (save for a few garnishes and a splash of water or soda to finish it off).
For an even more custom cocktail, this infusion kit will let your aspiring mixologist get super creative — plus they can use whatever kind of booze they like best.
Moscow mule lovers can put a twist on their go-to drink with this kit, which swaps in habanero-lime bitters and drinking vinegar (instead of the traditional ginger syrup), plus it boasts a stainless steel jigger, dried lime slices to garnish, and two biodegradable straws for sipping.
For the very sophisticated drinker (and vintage lover), this DIY absinthe kit from Bootleg Botanicals might just be the highlight of their holiday season. The beautiful box includes infusion spices (like fennel seed, star anise, and grand wormwood), a green glass bottle that can be personalized, a funnel, paper filters, and of course instructions so they can perfect the process. All they'll need is the alcohol — vodka or Everclear with ABV over 150 is recommended.