The Best Gifts For Wine Lovers Don't Actually Involve Wine, According To A Vintner
Plum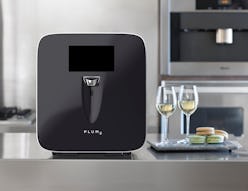 If you don't know much about wine, you probably have no idea where to start when it comes to buying gifts for the wine lovers on your list. Between the many, many varieties and the countless products and accessories you can buy to make the drink better (and more fun to consume), finding a present can become a seemingly endless maze of confusingly named products. And while it might seem like the obvious choice is just to buy a bottle and call it a day, according to the recommendations of vintner Samantha Rudd of the Napa Valley winery Rudd Oakville Estate, the best gifts for wine lovers don't actually involve wine.
After growing up on the Rudd Estate, which was founded in 1996 by Rudd's father, Rudd went on to spend four years training and learning from some of the best vintners and wineries in the world — so it's safe to say she knows a thing or two about the topic. And when it comes to finding the best presents for everyone on your list, she recommends gifts that provide an experience or a way to make your wine — and the process of drinking it — even better.
One such product is Plum, a $1,999 wine dispenser that preserves, cools, and dispenses wine from any standard 750ml bottle. For the ultimate wine lover, it's a gift that won't let you down. For a present that'll help extend the life of wine without the high price tag, opt instead for the 4-Pack of Repour Wine Savers for $8.99. They'll keep a bottle fresh for a longer amount of time, which any vino enthusiast can appreciate.
Know someone who's just as into learning about terroir as they are drinking a glass? Give them a copy of "Napa Valley Then & Now" by sommelier Kelli Audrey White for $95, which delves into the history of a prominent wine region in America. And for something on the pricier end, "The Impossible Collection of Wine", which costs $945, is a celebration of the best vintages in the world that comes in a beautiful, luxe package.
Not totally sure about the extent of your friend's interest in wine? Forgo the in-depth books and wine gadgets for some pretty accessories to accompany their next glass of Burgundy. The Assorted Gold Ring Coaster Set from Bell'Invito for $22.50 is simple and pretty enough to fit into any home, and the Poglia Signature Bicolor Corkscrew for $160 will make any bottle look good in a home.
For the family member who's always on the hunt for the perfect Pinot Noir or the friend who lives to discuss the "nose" of every glass, surprise them with a gift they'll never expect — but definitely appreciate. Ahead, eight recommendations from Rudd on the best presents for the wine lovers in your life.