Why Kerry Washington's Hairstylist Always Uses This $28 Conditioner
Nicholas Hunt/Getty Images for Michael Kors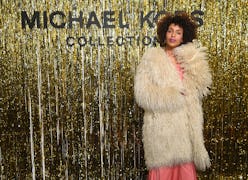 Go backstage, on set, or behind the scenes with any hairstylist and you'll find they all have something in common: The kit. Typically a bag, fanny pack, or carrying case, a kit includes everything a professional hair artist needs to handle hair (and hair issues) on the fly; from holding a style in place for hours-long award ceremonies to averting unexpected hair disasters. No two are the same — each stylist has their own unique methods and preferred products — especially when it comes to celebrity natural hairstylists who specialize in wavy, curly, coily, and protective styles.
Of course, there are a few universal can't-live-without tools that nearly every natural stylist keeps on hand: a toothbrush, a curl steamer, and leave-in conditioner. "Most of my curl queens are natural," Nai'vasha Johnson, who works with celebs like Yara Shahidi and Indya Moore, tells The Zoe Report. "The toothbrush is for their glorious edges." To keep curls fresh in between wash days, many hairstylists turn to a steamer. "A good steam treatment is necessary bi-weekly to train the hair to be soft and manageable," Kiyah Wright, who works with Ciara and Jennifer Hudson, tells The Zoe Report. "And a leave-in conditioner is essential for detangling and preps your hair for blow drying."
Ahead, peek inside the kits of five pro stylists — including Vernon François, the go-to guy for Lupita Nyong'o and Danai Gurira; Lacy Redway, who's responsible for Alicia Keys' and Amandla Stenberg's natural looks; and Takisha Sturdivant-Drew, Kerry Washington's go-to stylist, and Willow Smith — to discover the genius tools and products your natural routine is missing.
Vernon François
"The most important tool is your mind, and then your hands," Francois tells The Zoe Report. "For me, I always have a hair tie on hand. For short hair, I'm sure to have a leave-in conditioner with the tail comb nearby. These tools and products are essential because you are ready for anything."
His top tip for creating some mane magic at home? "Allow yourself space to be free when wanting to create something magical for yourself," he says. "This starts with the mind — then use your hands to facilitate that concept. Don't be scared to make mistakes; you can often learn something great about the process. Also, when in doubt, tie it up in a ponytail."
Lacy Redway
"I keep a heated hair bonnet in my kit. It basically does what the hooded blow dryers at your salon would do, but is easily stored in a more compact way," Redway tells TZR. "I also kept plastic straws before I discovered how bad they were for the environment in. The purpose they served was to give you variation in the diameter of the curls you wanted to achieve. Now, I plan to discover alternate options in place of straws."
The stylist opts for refresher sprays in lieu of adding heavy creams to a client's curls. "Be careful with product buildup if you use creams on second, third, or — let's be honest — sometimes fifth and seventh day hair," she advises. "I recommend incorporating a curl refresher spray in between, like Nexxus Between Washes Revived Curls Crème Spray. It doesn't weigh your curls down and just simply aids in refreshing your curls once you remove them from your bonnet."
That being said, Redway's kit is constantly in flux. "I'm always testing out new products that come on the market, because natural hair is such a personal journey and what works for me may not work for your mane," she says.
Nai'vasha Johnson
"My three must-haves in my kit are a blow dryer with a diffuser, a wooden toothbrush, and a wooden paddle brush," Johnson says. "I need the diffuser to dry the hair without disturbing curls, the toothbrush for edges, and the wooden paddle brush for proper detangling."
According to Yara Shahidi's go-to stylist, detangling the right way is a game-changer. "Be sure to saturate your hair with a great leave-in and detangle hair in small sections, beginning at the ends," she says. "This prevents excessive breakage."
Kiyah Wright
"My Nume flat iron is my favorite hot tool right now," Wright shares. "It heats up to 450 degrees, easily glides through the hair, and is a great iron to use when you are in a hurry because it's big enough for you to flatten bigger sections of hair." She also swears by Unite 7Seconds Leave In Conditioner. "This conditioner detangles your hair in seconds and gets the hair nice and soft before you begin blow drying — it also smells amazing," Wright says. "And if you really need to lay those edges, EBIN Edge Tamer is my go-to. It's not greasy and provides a good hold throughout the day, without leaving any white residue."
Takisha Sturdivant-Drew
Sturdivant-Drew's kit is bursting with hot tools that are safe for natural hair and hydrating products. "One must-have would be Vibrastrait Pro Flat Iron By Beautopia Hair — it stays in my kit at all times and is my absolute favorite," she tells The Zoe Report. "Second would be my Hot Tools Spring Curling Iron. I love this because it adds texture to your hair without drying it out. I don't leave home without it!" She's a fan of Dyson's Supersonic Hair Dryer, too. "It's lightweight and it dries the hair in half of the time; it's also healthy for your hair because the heat doesn't blow directly on the scalp," she explains.
"Use hydrating products with oil to moisturize natural hair," Sturdivant-Drew says of recreating celeb-worthy natural hair looks at home. "Kiehl's Formula 133 is a lightweight leave-in conditioner that lets the curl be bouncy and locks in the curl without it looking crunchy. DevaCurl Light Defining Gel really holds in the leave-in conditioner and locks in the curl while leaving it touchable. And DevaCurl Mist-Er Right revives the curl — that way you don't have to wet your hair down daily."