Starbucks Is Nixing This Major Thing From Its Stores: Straws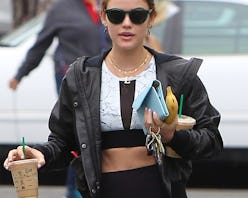 Lately, the some companies, governments, and the general public have grown more concerned with the pressing need to reduce plastic waste. The 5.25 trillion microplastic particles—AKA 270 tons—currently floating in the sea due to the world's single-use culture is harming not only wildlife and Mother Nature but also your health. The latest company to go green—just in time for Plastic Free July—is Starbucks, which recently announced via press release a plan to ban plastic straws from its more than 28,000 locations by 2020.
Starbucks' initiative will eliminate 1 billion plastic straws annually, according to the release. That's major news considering that Americans use half a billion plastic straws daily. In place of the drinking utensil, the worldwide coffee chain has developed a recyclable plastic sippy top that fits on cups for iced beverages. It's already being used for some drinks—including the Draft Nitro and Cold Foam—in upwards of 8,000 stores in the United States and Canada. Soon, only Frappuccinos will be served with a straw—but one that's made from "paper or PLA compostable plastic manufactured from fermented plant starch or other sustainable material." And that eco-friendly straw option is available for all drinks at the customer's request.
Starbucks isn't the only big business to jump on the plastic-free bandwagon with better-for-the-environment options: McDonald's is also ditching its plastic straws at UK locations and plans on testing its new paper option in the United States as well. Furthermore, earlier this year, Adidas announced a strategy to use recycled plastic in all its products by 2024. And on July 1, Seattle became the first US city to completely prohibit plastic straws and utensils. Other locales are trending in that direction, with several cities having passed laws limiting plastic straw use.
But you don't have to wait for corporations and laws to wise up in order to pledge your own eco-friendly allegiance. There are plenty of plastic-free straw options you can keep on hand to stay green wherever you are, whether that's sipping on a smoothie at home or picking up an iced matcha on the way to work.
More From Well + Good:
Why You Should Give Your Pancakes A Buckwheat Makeover
4 Travel-Friendly Exercises Halle Berry Does With Nothing But A Chair
Derms Say Cold Showers Have A Host Of Health Benefits…If You Can Stand Them