This Pretty Pearl Headband Is The Missing Piece In Your Holiday Party Look
shopbop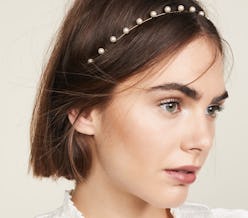 The holiday season is upon us, e-vites are flooding your inbox, and your calendar is filling up with work cocktails, gift exchanges, and family gatherings. While you may have your outfits ready to go, if you're still lacking that little bit of extra something to take it to the next level, consider shopping one of the many festive hair accessories taking over stores right now. Velvet, crystals, and pearls reign supreme when it comes to the offerings this season, so you can easily add a little festive spirit to a look in a snap.
There are a slew of options to choose from that'll bring you right back to your childhood — think headbands, scrunchies, and barrettes — however, they've been re-imagined in luxe fabrics and adorned with festive elevated details.
If you've been loving the non-traditional pearl jewelry trend, you'll be happy to learn that it extends into hair. Pearls are all over hair accessories from scrunchies and barrettes, and even to headbands like this delicate style from Jennifer Behr for $262. The gold piece is lined with pearls that'll peek out among your tresses and glimmer the light.
If you don't love a headband, but want to incorporate the luster of pearls in your look, opt for a pearl hair tie. Another creation from Jennifer Behr, the gold-plated Swarovksi accessory for $275 is like jewelry for your hair. Once on, it'll add that final touch of sophistication to a sleek pony. When it comes to hair accessory designers, Jennifer Behr is at the top of the list. Her designs have been worn by countless celebrities, so you're pretty much well on your way to achieving a red carpet moment in one of her pieces.
A headband is an easy way to bring seasonal textures into an outfit. If you've been searching for one, but haven't found exactly what you're looking for, try this emerald velvet style from DONNI. For $84, you basically get several hair accessories in one. The versatile piece has a bendable wire hidden inside that allows you to switch up its shape, and therefore your hair, easily. Wear it as a headband one night and as a hair tie the next. For New Year's Eve, wrap it around a top knot to make a more laid-back hair style look put together.
Looking to add some color to your mane? Instead of sweeping back your strands with neutral bobby pins, try the Spectrum Bobbi Set from LELET NY. For $158, this rainbow crystal duo will eliminate the need for any other jewelry, as it'll provide enough sparkle and shine all on its own. When you're on-the-go, slide a pack of the $18 velvet bow hair clips from Anthropologie into your work bag. Before you head to drinks with friends, add a couple to your locks, and don't be afraid to mix the colors up for an unexpected twist.
There's a piece for everyone and every look, so continue on to start shopping 12 hair accessories that'll really wow.