Skip The Coffee And Make This Energizing Smoothie To Start Your Day Instead
stockfour/Shutterstock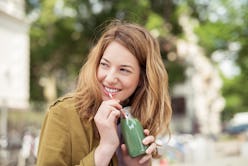 It's been said that your first meal of the day is the most important. That said, some people opt to go all-out with a balanced and filling plate of food while others are bolting out the door with just a bulletproof coffee. And still there are so many variations in between. But if you've been looking to change up your morning routine with something besides your standard avocado toast or grab-and-go muffin, you might want to consider some super healthy breakfast smoothies that can keep you as energized as a cup of joe. In fact, some of them might even be the perfect coffee alternative if you're trying to cut back.
According to the experts, the healthiest breakfasts are the ones that keep you feeling satiated with protein, good fats (like coconut oil or avocado), and fiber to keep your digestion running smoothly and your cholesterol low — and that's one reason you might opt for whole fruits and veggies vs. blending vegetables and drinking the juice. But if a beverage you can drink on-the-go best suits your morning needs, a smoothie might be your best bet, especially when it's packed full of ingredients that give you an extra boost of energy to cross everything off your to-do list.
As author of The Smoothie Project: The 28-Day Plan to Feel Healthy and Happy No Matter Your Age and founder of Weelicious, Catherine McCord is bonafide smoothie expert at this point. In her book, she experiments with a few different variations that make healthful options for a variety of needs — including super-powering your mornings while simultaneously being satisfying enough to feel like a complete breakfast. Looking for a few options to add to your repertoire? See ahead for four simple smoothies McCord recommends for starting your day off right (including two that have a little caffeine for those who simply can't do without).
Bulletproof Coffee Smoothie
McCord's signature "Awake" smoothie is like an icy version of your bulletproof coffee, combining cold brew coffee with grass-fed butter, MCT oil, collagen peptides, maca powder, a dash of cinnamon, and the milk of your choice. "Adding your coffee into a smoothie is a two-for for getting that morning jolt you need," she says. "This smoothie not only boosts your energy level, it boosts your metabolism and helps your cognitive function."
Matcha Banana Smoothie
This isn't your typical green smoothie. What gives McCord's Matcha Date Shake its color is also what gives it a caffeinated boost. You can make your own version with matcha powder, fresh spinach, frozen banana, a pitted dried date, a bit of vanilla extract or paste, your favorite milk, and ice. "Matcha has been consumed for centuries not only for its delicious taste, but also for its antioxidant and brain-boosting properties," she explains, adding that the star ingredient might be a good alternative for those who find coffee to give them too much of a buzz. "While matcha has the same amount of caffeine as coffee, it creates a calm alertness that's more gentle on your body."
Blue Spirulina Smoothie
The beauty of McCord's "Blue Majik" isn't just in its bright hue. "Blue Majik is a micro algae spirulina filled with B12 vitamins, vitamin A, and iron as the star ingredients," explains McCord. "Its potential health benefits include reducing inflammation, digestion, and boosting energy and thyroid function. The best part? It tastes creamy with banana and almond butter and keeps you energized for hours." And the author's Bright Blue smoothie also includes frozen mango and cauliflower, fresh lemon juice, and your milk of choice in addition to the aforementioned ingredients if you're looking for a version to try at home.
Super Green Smoothie
If it's a classic green smoothie you're craving, don't skimp on the nutrient packed greens, like fresh spinach and kale. McCord's Divine Start smoothie tosses in some frozen banana and coconut chunks, a date for sweetness, chia seeds, flex seeds, and coconut milk to make sure it's full of fat and fiber and that it tastes delicious. "When you drink this green machine, you have all of your bases covered: A handful of kale and spinach for a mild greens flavor and a ton of antioxidants, banana and date for just the right amount of sweetness, chia seeds for protein and omega-3 fatty acids, flax seeds for fiber, and frozen coconut meat and coconut milk for healthy fat with plenty of coconut flavor," she says. "The second you slurp it up you feel better about your mind, body, and all."