Over Avocado Toast? Make This Quick & Healthy Breakfast Your New Go-To
vaivirga/Shutterstock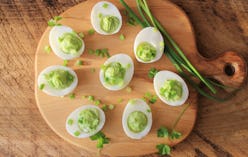 Not everyone is a morning person. For some, it's hard enough just to get out the door in time, let alone finding something somewhat nutritious to fuel up on before you've got to tackle all the things on your to-do list. For that reason, you may find yourself in a breakfast rut, making the same dish over and over simply because you just don't have the time to get more creative. Go-to staples like avocado toast always work in a pinch, but if you're looking for more quick and healthy breakfast ideas to shake up your routine, you've got options.
Often times, convenience wins in the morning — which is why some of you occasionally fall victim to picking something up from a drive-through or your local coffee shop's pastry case because you just can't be bothered with cooking that early. But with some nutritionist-approved recipes and perhaps a teeny bit of prep (which you can do the day before, when you've actually got the energy) you can manage a few creative options that take little to no more effort in the AM than your reliable avo toast — and are probably healthier than the grab-and-go options you've been reverting to.
As proof, a handful of wellness pros and recipe developers have weighed in with some ideas of 10-minute or less dishes that will have you starting your day off right — including savory and sweet (but low sugar) selections. Find all 10 ahead.
Glow Smoothie
For a smoothie recipe with all the healthy fats to keep you satiated, try this super simple version from Shauna Faulisi, nutritionist and recipe developer of concierge service Soul Wellness Method. "This is my signature smoothie that all of my clients have on the daily," she says of the collagen protein powder, avocado, flax seed, and berry blend. "It keeps you full while keeping your insulin levels balanced allowing for stable energy during the day. Pro tip: Prep each smoothie (sans liquid) in a baggie and freeze them. In the morning, pull one out of the freezer, and pour in the frozen ingredients, then add your liquid. Blend and voila!"
Coconut Yogurt Meal
"There are some incredible probiotic-rich coconut yogurts on the market and it's one of the quickest, most portable options," Faulisi shares. "I'm all about making complete meals, so add some protein powder and flax seed for fiber and observe how much more full and satiated you are than having the yogurt solo."
Coconut Protein Bites
These energy-boosting balls are filled with healthy fats and protein, but they'll so feel like a little morning treat. Made from coconut flour, almond butter, protein powder, sugar-free chocolate chips, and a little honey or maple syrup, Faulisi suggests making these in advance and stashing them in the freezer for a quick and totally portable breakfast.
Pumpkin Pie Overnight Oats
Before you head to bed, take a few minutes to prep yourself a totally autumnal treat to wake up to. "When the weather drops, I love giving my classic overnight oats recipe a fall twist by adding pumpkin puree," says Claire Virga, registered dietitian at Rooted Wellness. "Simply combine rolled oats, almond milk, pumpkin puree, cinnamon and chia seeds in an airtight container. Stir to combine and store overnight in the fridge." As an added bonus, the wellness expert adds that pumpkin happens to be high in beta carotene, which could help keep your immunity up during cold/flu season.
Butternut Squash Egg Muffins
Don't let the fancy presentation fool you — making these adorable savory egg muffins is a lot easier than you think. "Divide roasted butternut squash, caramelized onions, and kale among a muffin tin," instructs Virga. "Pour whisked eggs (along with seasoning of your choice) over the veggies, top with a sprinkling of feta cheese and cook in the oven for 25 to 30 minutes. These egg muffins are full of fall flavor thanks to the seasonal veggies. Butternut squash is a great source of potassium and vitamin C while kale is packed with folate, an important nutrient for energy metabolism and prenatal health."
And because these have a longer baking time, to make them work in your 10-minute morning window, just bake them ahead of time, store them in the fridge, and warm in the microwave when you're ready to eat.
Sweet Potato "Toast"
Gluten-free folks will appreciate this flourless alternative to avocado toast, and Virga has a go-to version that's just as simple. Prep your "toast" in advance by cutting your sweet potato into 1/2 inch slices and baking about 25 minutes. Then top with nut butter, banana slices, and chia seeds. "Sweet potatoes are nutritional powerhouses loaded with antioxidants, fiber, and immunity boosting vitamins like vitamin C and beta-carotene which is converted to vitamin A in our bodies," she explains.
Salmon & Cream Cheese Rolls
Go low carb and skip the bread with this riff on a lox bagel. "I love to take a little bit of cream cheese, sliced avocado, and Everything But the Bagel Seasoning, spread it on a slice of smoked salmon, and roll it up into a delicious bite sized breakfast, says Brynn McDowell of The Domestic Dietitian. "It's easy to whip up (no cooking required) but also provides a great source of protein, healthy fats, and Omega 3 fatty acids, which can lead to great heart health. This dish is flavorful and will keep you full until lunch time."
Avocado "Deviled" Eggs
Another bread-free option that still highlights your beloved avocado is this twist on deviled eggs. "Remove the yolk and place guacamole or hummus in the center of a hard boiled egg," shares Beth Auguste, Dietitian/Nutritionist and Women's Fitness Specialist. "You'll have a wonderful balance of fat and protein (also fiber, if you use the hummus) which should keep you full for hours."
Tortilla French Toast
Get your French toast fix — but healthier — with this breakfast idea from Vered DeLeeuw, founder of Healthy Recipes Blogs. "Use whole-wheat, low-carb, or almond flour tortillas for a healthier breakfast," she explains. "Dip in egg and milk, then fry in butter and sprinkle with cinnamon sugar. The tortillas puff up when you fry them — delicious!"
Baked Avocado Egg
Yes, it requires use of the oven, but these baked avocado are deceptively simple to make. "Avocado is amazingly creamy when baked, and with the eggs and the spices, it's such a delicious meal," says DeLeeuw. "Halve the avocado, remove the pit, fill the cavities with eggs, and bake." Simple as that!