This Travel Trend Is Booming Right Now — And Prices Start At $24
Harry KiiM/Shutterstock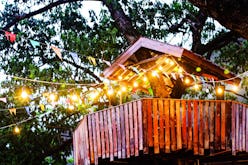 While it's unlikely that anyone would ever turn down a luxe stay in a 5-star hotel or all-inclusive resort, it seems the "wanderlust" wave that's been rapidly building over the years has made travelers seek more from the run-of-the-mill vacation. In fact, these days, in addition to the beach-side villas and picturesque mountain cabins, souped-up treehouse rentals are hot commodities on Airbnb.
And while the concept of a Tarzan-like dwelling may seem a bit too off-the-grid for some, in actuality, a majority of the options available on the vacation rental site have some pretty luxe accommodations. Wifi, cable, hot tubs, central air, even indoor fireplaces (as counterintuitive as that sounds) are just some of the amenities included in these sky-high dwellings — coupled with a killer jungle or forest landscape and you've got the makings of a bonafide paradise.
Kelly Lewis, founder of tour company Damesly, which provides travel tours for professional and creative women, says the treehouse phenomenon helps fill a need in travelers who are looking to visit destinations in new ways. "I feel like the concept hits a note of nostalgia and reminds people of the treehouses they used to build as kids, but more glammed-up, cool, and interesting," she says.
The nostalgic vacay falls in line with another trend that, according to Lewis, is incredibly popular among 30-something travelers: shorter trips. "I'm seeing people go further in terms of location, but not for longer periods of time," she says. "People used to take off weeks or even months to go on exotic vacations, and now they're taking off to Bali for four to five days to stay in a treehouse. Travel just feels so much more accessible."
Accessible, indeed. These days, you can find treetop homes for rent all over the world — Australia, France, Costa Rica, Scotland, and, of course, the good ol' United States. In fact, the US boasts some truly incredible dwellings in all shapes and sizes, from this rustic retreat in Atlanta to this mountain cabin in Montana. The options are literally endless, not to mention affordable. On Airbnb, rental prices per night can range from as low as $23 a night to $770 (although the latter is rare, as most prices seem to hit between $200 and $400 per night).
In addition to their geographical flexibility and financial convenience, there's also a novelty factor that comes with treehouse getaways, says Lewis. She explains that the travel trend has yet to become saturated on social media feeds, which further increases its appeal. While selfies in Icelandic hot springs and foodie shots of macarons in a Parisian bakery are a dime a dozen these days, imagery from a treehouse balcony in Germany, for example, are a bit harder to come by … for now. "I think a lot of travelers want something that feels exclusive, as opposed to a place or venue that everyone has been to and experienced already."
To help you get a running start on your next vacation, ahead you'll find eight picturesque treetop paradises for rent all over the world, available on Airbnb. Get going.
Treehouse, Murnau am Staffelsee, Germany