If You Like Restoration Hardware, You'll Love This Under-The-Radar Retailer
@shophorne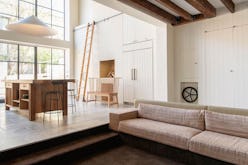 You like what you like — and that's okay, but sometimes changing things up can be more powerful than sticking with only what you know. When it comes to your decor, while it can be tempting to head to your go-to retailer to get everything from your towels to your coffee table, it actually might benefit your aesthetic to mix it up — but that doesn't mean abandoning the style you love. For example, there are a few stores like Restoration Hardware that emulate the classic, minimal-yet-relaxed, slightly industrial vibe the brand has become synonymous with. You just have to know where to look.
Restoration Hardware fans rely on the store to give them tons of options for timeless furniture pieces, accessories, and even textiles — like overstuffed sofas that still have clean lines, sleek floor lamps, and bedding that's elevated-yet-cozy. That said, it's totally understandable that if that's your desired aesthetic, you've been grabbing everything you need for your home under one roof here. But if you're open to stepping ever-so-slightly out of the box, while still using RH as the touchstone for what you're into, there are some stores you don't want to sleep on, even if it means spending a few extra bucks.
So if you're in the market for anything from small decor objects to a big-ticket statement piece that instantly upgrades any room in your home, read ahead for three stores to consider before (or in addition to) shopping at your same-old-same-old.
With a collection of more emerging/indie brands like Koi, Fjordfiesta, and Stephen Kenn, this online home decor shop is filled with investment worthy pieces that nail RH's traditional American-meets-modern aesthetic. While it's decidedly more contemporary, you're bound to love finds like a sleek wooden bench or an industrial-inspired leather swivel chair.
For a slightly more globally-inspired approach, check out this curated online decor shop. With a ton of industrial-meets-mid-century finds that toe the line between comfy and chic (the perfect heather grey area rug, a luxurious velvet arm chair), think of this as a stepped up version of your favorite home decor shop.
When it comes to accessories from RH, the vibe is clean and classic. But if you're willing to go one notch more modern and artsy, try this one-stop-shop for cool bar accessories and tableware, candles that will make your home feel like a chic hotel, and even bedding that will give your bedroom an instant upgrade.