This Lamp Will Instantly Give Your Home That Industrial Chic Feel
Photographee.eu/Shutterstock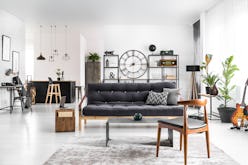 When it comes to interior design, you don't always have to be so on-the-nose to get your desired aesthetic. Whether you love the rustic and lived-in feel or something more contemporary, there are ways to capture the look without having to re-do your entire home — or going the cookie-cutter route. Case in point: With a few strategic industrial decor ideas, you can get the cool, sleek update you're craving in an instant.
For some, keeping summer's staycation vibes by way of natural materials and organic motifs works year-round. But if it's the industrial look you're interested in for a fall refresh, it's actually a lot easier to do than you might think. In fact, interior decor enthusiast influencer, and Lamps Plus ambassador Joanna Hawley has a few tips that make it practically foolproof — including ways to switch up your lighting and what investment-worthy pieces to be on the hunt for.
Ahead, find the Seattle-based blogger's best advice for nailing (pun slightly intended) a chic industrial look in your space now.
Keep It Minimal
Hawley notes that when it comes to the industrial look, what you include is just as important — if not more so — as what you don't, as the decor style often involves a lot of negative space and minimalistic pieces. "Open lofts, raw industrial spaces, and vintage factories inspire the look," she says. "Fixtures, lamps, and furnishings should have an unfussy, minimal aesthetic. Avoid excessive ornamentation or distracting detail."
Go Geometric
Right in line with the idea of minimalism is Hawley's tip to include geometric shapes, which could mean the addition of an arc lamp in lieu of overhead lighting (one of her favorite design tricks) or seeking out furniture pieces with hard lines and clean edges, like this reclaimed wood side table that's a perfect cube.
Try Some Decent Exposure
"Industrial style celebrates the underlying forms of a design," explains Hawley. "You can recreate this feel with exposed cords and visible bulbs for an edgy, unfinished look. Choose open frame chandeliers or geometric pendants. Factory-inspired elements such as wheels, gears, pulleys and piping add to the industrial feel." An easy way to get the look instantly? A lamp like this one.
Go Au Naturel
Both natural materials, and neutral, nature-inspired hues are essential in creating an industrial looking space. "Muted color tones such as brown and gray fit well with the style," Hawley says. "Use textiles or furnishings in monochromatic, subdued, or neutral colors." Try grounding the room with such colors for your wall, or large furniture pieces like your sofa. You can always accent with a bit more color to bring in some warmth.
As for materials, she suggests shopping pieces made with bare metals, wood, and concrete and look for finishes that are purposely raw and unfinished to get a weathered, time-worn appearance. This is a great place to use vintage, so hitting up sites like Chairish, or even taking a trip to a local flea market could be worth your while. A perfect example is this pair of metal filing cabinets that has just the right amount of patina.