This Unexpected European Locale Is The Perfect Destination For Wine Lovers
David Prado Perucha/Shutterstock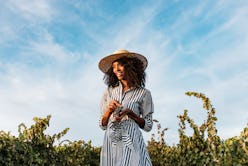 Wanderlusters will find any reason to travel, and thanks to searching and booking sites, planning a trip is easier than ever before. It's no wonder that foodie tourism has reached an all-time high, and naturally, those on a never-ending quest to explore the world through wine are following suit. Needless to say, if you have a taste for travel and fermented grapes, you can have it all; it's time to add some of the best wine vacations to your travel bucket list.
Whether there's a birthday, anniversary, or destination bachelorette party in your future, consider following your palette when it comes to planning your next trip. In addition to the vino, the best part about taking a wine-all-day vacay is that plenty of places fit the bill, near and far. From an epic road trip along the tip of South Africa to a weekend getaway in your own home state, sumptuous wines and stunning vineyard views aren't exclusive to just one part of the world.
Ahead, travel experts share their favorite wine destinations and excursions from all over the globe. If you've craving a spring vacation — and a velvety glass of goodness — read on.
Route 62 || South Africa
"At 850 kilometers, Route 62 in South Africa is the longest wine route in the world. It starts at the coastal city of Cape Town and goes all the way east to the laid-back surfer city of Port Elizabeth, with stretches of stunning landscapes and towns in between," says Jennifer Li, founder of Map&Move, featuring curated travel experiences for millennials. "Most people will go to Stellenbosch, the oldest, biggest and most popular wine region by Cape Town. But if you have more time to travel, a lot of Capetonians will tell you that Franschhoek––which takes after French traditions and winemaking expertise––is actually their favorite region in terms of stunning scenery and quality."
Add to your itinerary:
Napa Valley || California
Kelly Soderlund, travel trends expert at Hipmunk, a travel search site admits that Napa is cliché, "but there's a reason for that." Speaking to Yountville, she says, "This quaint little town in the heart of Napa is the quintessential wine lover's destination. You're surrounded by verdant vineyards, Michelin-starred restaurants, and amazing spas. What's not to love?"
Add to your itinerary:
Willamette Valley || Oregon
"I'm a huge fan of Pinot Noir from Burgundy, but not necessarily the price tag," Angela Feher, communications manager at TripIt, a travel planning tool, tells The Zoe Report. "What most people don't know is that the 45th parallel runs through the Willamette Valley. And given that Burgundy sits between those same lines of latitude, this speaks volumes for the terroir. With that being said, the region is loaded with several top-notch wine producers, which means that it's easy to find amazing Pinot Noir for a fraction of the price."
Add to your itinerary:
Douro Valley || Portugal
Emily Bernard, co-founder of the booking site PlacePass.com, says that no wine connoisseur's bucket list is complete without a trip to Douro Valley. "Accessible from Porto, the rolling hills and white-walled villages of the Douro Valley are home to one of Europe's oldest wine-producing cultures," she says. "The tradition of viticulture is so strong here (dating back 2,000 years!) that Douro Valley was granted UNESCO World Heritage status in 2001."
Add to your itinerary:
Virginia Foothills || Virginia
"The signature winery experience in the Virginia Foothills is Barboursville Vineyards, which is one of our most celebrated and iconic wineries," Caroline Logan, director of communications for Virginia Tourism Corporation, tells TZR. "The winery is a stunning 18th century estate which features not only a beautiful tasting room with more than 25 wines available for daily tastings and guided tours, but they also have historic Barboursville ruins and the 1804 Inn, a classic Georgian villa with three luxurious and timeless suites overlooking Governor Barbour's mansions."
Add to your itinerary:
The Finger Lakes Region || New York
NYC-ers can take a break from bustling city life to savor some vintage just a few hours away. "The Finger Lakes Region has for decades been known as one of the best wine regions in the country," says Chris Clemens, founder of Exploring Upstate. "The wine-country region spans multiple counties and lakes, but there's a lot of activity right in the center around Seneca Lake. Geneva, New York, at the northern tip of Seneca Lake, has been given new life with a culinary scene that matches the wine makers surrounding the lake."
Add to your itinerary:
Grand Cayman || Cayman Islands
"The Cayman Islands may not be known for its locally-grown wine," begins Jody Vandergriff, CEO and founder of the travel site Seeker, "but with over 100 nationalities in a population of just 65,000 people, it's one of the most international countries in the world; your choices of imported wines are fruitful and extensive." She adds, "One of the best spots to sample vino from around the world is the Grand Old House in Grand Cayman, offering a selection of over 2,100 wines at their waterfront restaurant and bar."
Add to your itinerary:
Sonoma County || California
If you're visiting Sonoma County, Amy Landolt, director of marketing and public relations for the Sonoma County Winegrape Commission, suggests zeroing in on Santa Rosa. Here, you'll find the newly-renovated Vintners Inn, along with the onsite restaurant John Ash & Co., featuring one of the most extensive wine lists in Sonoma County. Plus, there are plenty of other wine-centered excursions, tours, and tastings nearby.
Add to your itinerary: