This Kitschy California Hotel Is Basically Paradise For Instagram
@madonnainn1958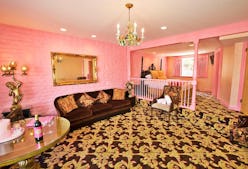 Some travelers look for natural wonders — like white sand beaches, scenic hikes, or epic ocean views — as a source of inspiration for their next vacation destination. Others book their trips based on the interesting things to do in the area, like shopping, historic sightseeing, or more location specific activities. And for another section of people, the accommodations are everything — but that doesn't have to mean staying at a luxury resort. If you're up for a unique adventure and have a penchant for nostalgia, there are a few totally kitschy hotels in the US that will give you exceptional memories — not to mention envy-inducing photos — to last a lifetime.
Alternative vacations have become more and more popular in recent years. That could mean booking a stay in a boat, treehouse, or any other number of weird rentals you probably can't believe even exist. And kitsch-lovers in particular have a few great options to explore across the country, so whether you prefer a cozy cabin in the woods or a tent in the desert you can select a spot that's filled with vintage accoutrements, oddities, and tons of photo ops.
If that sounds like your kind of getaway, read on for five totally quirky and campy hotels that could be a candidate for that fall vacation you've been considering.
Madonna Inn — San Luis Obispo, CA
Arguably the most iconic kitschy hotel in America, Madonna Inn boasts 110 themed rooms that feature details like rock walls, glitter wallpaper, retro furniture, and massive amounts of pink. And if you don't get to book one of the pink-er suites here, there's always the bubble-gum colored dining room that serves (yep) pink champagne cake, pink tennis courts, and well, you get the idea.
Aurora Express — Fairbanks, AK
Looking to experience the beauty of the Alaskan mountain range with a touch of nostalgia? Hop on board the Aurora Express. The historic trains are situated on 700 feet of railroad track overlooking Fairbanks and the Tanana Valley and have been renovated into four elegant suites, featuring queen-sized beds, private baths, and entrances. While each suite has its own unique flair, they all strike the perfect balance of classic Victorian and straight up campy. And no Alaskan vacay would be complete with out a view of the Northern Lights, right? Well, look no further than the Aurora diner car, which includes a mural of an eight-foot bald eagle soaring in the Northern Lights.
Hicksville Pines Bud & Breakfast — Idyllwild, CA
Hicksville Pines is a newer venture, but nevertheless it's undeniably kitschy, with room themes that include John Waters, Dolly Parton, and 420 — complete with a vending machine in the room for "munchies." You can even get totally cheesy and book the Honeymoon Suite where you can soak in your own private heart-shaped jacuzzi. Tucked away in a woodsy setting in the San Jacinto Mountains, this also happens to be a perfect (albeit unique) place for a winter retreat.
Kate's Lazy Meadow — Mt. Tremper, NY
The iconic B-52s are practically synonymous with kitsch, so it's no surprise that the band's keyboardist and vocalist Kate Pierson would be the perfect person to design a hotel with just the right amount of retro quirk. Actually she owns three of them, but if you're looking for a cozy cabin stay in the Northeast, it doesn't get much better than Kate's Lazy Meadow. Located in the Catskills, the cabins and suits here boast the perfect 1950s style decor, full kitchens, and a shared Japanese-style hot plunge pool you can soak in under the stars. Another of Pierson's properties includes a collection of revamped trailers in the Mohave Desert, and they're just as cool and kitschy.
Pelican Spa — Truth Or Consequences, NM
There are a few great reasons to make the eclectic town of Truth Or Consequences the destination of your next vacation. There's the nearby Rio Grande and Elephant Butte Lake, the wealth of natural hot springs, and of course the adorably kitschy Pelican Spa, that makes a great place to stay if you decide to stop here. The 32 rooms in five different buildings offer guests whimsical, colorful decor, lots of vintage throughout, and private mineral springs baths, plus loads of charm.