The $5 Trader Joe's Wine You'll Want To Keep In Stock All Year
Rawpixel.com/Shutterstock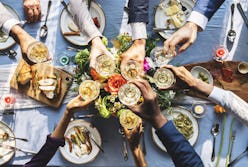 No one can deny the undeniable appeal of a great glass (or bottle) of wine. Possibly dating as far back as 6000 B.C., it seems there never was a time that wine was not at one's fingertips, so why shouldn't you keep the tradition going? Keeping a bottle of wine in your kitchen can prove to be an entertaining lifesaver, particularly if you know where to shop for your vino. Yes, these days the nectar of the gods is more accessible than ever, with wines under $20 not only being available but totally delicious as well.
Yes, these days brands are doing their darnedest to make sure wine affordable and available to the masses. From natural delights and seasonal stars (hello, rosé) to sustainable options, there's literally an inexpensive bottle for every preference. Oh, and many of these options are available sans pricey monthly membership programs.
Yes, avid wine-drinkers should probably consider some sort of subscription service like Winc to save on your wine consumption. However, if you like to switch things up or are more of an occasional or social wino, than investing in a couple affordable bottles is definitely the way to go. They allow you to have a bottle at the ready without the threat of buyer's remorse.
So what affordable options are available in terms of wine type? The answer is simple: everything under the sun. For those who love a light white wine, organic wineries like Kenwood Vineyard and even Trader Joe's offer beyond affordable options for pinot grigio and chardonnay for as little as $5. Yes, you heard that right — $5.
And for those who love a little summer water, Ferrari-Cerano and Tres Chic offer rosés that cheap in price but not in taste. In fact, the latter is available at everyone's favorite affordable retailer World Market, so you don't have to pay for shipping or wait for it to get to your door.
Affordable red wine options are also available in abundance thanks to brands like The Show Wines and Mercana, which each respectively offer Cabernet and Malbec at below-$20 price points that will fit into your grocery budget nicely. If you love a fruitier zinfandel try Brazin's Lodi-based option which costs all of $13.
Last but not least is everyone's favorite celebratory option: bubbles. Sparkling wines can also hit the under-$20 mark, and don't need to be enjoyed simply on special occasions. Finke's sparkling white blend is $16 and the perfect refreshment for a hot summer afternoon. You can also mix this option with a yummy juice for an instant mimosa or seasonal cocktail!
Feeling all the wine inspiration? Indulge your piqued interest with several affordable options to keep in stock year round. From Trader Joe's Northern California vineyards to the Italian countryside, ahead you'll find 20 options for delicious wines of all types that won't cost you more than $20. Drink up and be merry!