February Is Chock Full Of Skincare Launches — & These Are The 20 Worth Knowing
Sephora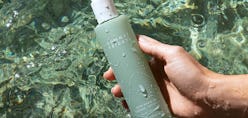 When a new cleanser from one of Instagram's favorite beauty brands (looking at you, Summer Fridays' new Super Amino Gel Cleanser) *and* a second buzzy collaboration between Victoria Beckham Beauty and Augustinus Bader hit shelves in the same month, you know February's skincare launches are shaping up to be legendary. And while they do feature a wide range of products (and price tags), there are a few themes in what beauty brands are putting out there this month.
The main focus? Brightening — and not just on your face. Olay Body launched a new line of skincare-inspired body products aimed at replicating what your your favorite serums and cleansers do, but for the area below the neck. However, it's not nearly as expensive as those pricey nighttime treatments; the collection includes three body washes (including its Cleansing & Brightening Body Wash with Vitamin C) for $7.99 and the Rinse-Off Body Conditioner for $5.99. Because in the age of butt masks and jade rollers for the body, there really is no limit to what skincare can do for you.
Speaking of butt masks, one of those launched this month, too. Clay-mask lovers, rejoice — because there's now a version for your backside. Bawdy Beauty, a brand behind the "original butt mask," as its Instagram claims, has expanded its offering with its $28 Clay Butt Mask meant to exfoliate and hydrate with ingredients like kaolin and montmorillonite clay, sodium hyaluronate, and willow bark.
There are a lot more launches this month, and each is more unexpected (and welcome) than the next. Ahead, the 20 that should be on your radar — and probably in your cart, too.