Expert Tips For Getting Gorgeous Natural Hair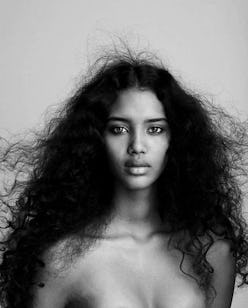 Photo Credit: MANE ADDICTS
Business woman, hair guru, TV personality — Kim Kimble is a full-fledged powerhouse. The legendary hairstylist has touched the tresses of Hollywood's biggest stars like Beyonce, Rihanna, Lady Gaga, Oprah, Nicki Minaj, Shakira, and Zendaya (to name a few). When she's not styling your faves, Kimble is building her empire of beauty brands (Kimble Beauty and K2 Beauty), running her West Hollywood Kimble Hair Studio, and starring in her WEtv reality show LA Hair. So we were incredibly grateful when this busy lady took the time to dish with us her hair wisdom!
Though she is privy to every and any hair type, Kimble makes it her purpose to cater to the very much underserved hair community, natural hair. In fact, her Kimble Beauty line was designed to address the needs of women of color with various hair textures. Every naturalista knows the struggle of scouring the web for haircare tips and tricks…. that actually work. Well, look no further. We asked Kimble the most unanswered FAQs and she gave us some awesome tips. Keep scrolling for some life-changing hair secrets and Kimble's favorite DIY hair treatment!
HAIR GROWTH
The age-old question: What is the secret to hair growth?
"There are a couple of secrets to hair growth. Massaging the scalp and brushing the hair will help to stimulate growth. It is also important to eat the proper nutrition as well as keeping the ends of your hair trimmed."
These last few years have shown hair growth pills to be incredibly popular. What's your take on hair pills? Do they work?
"I think it depends on what the hair growth pills contain. I believe in herbs and vitamins for hair growth stimulation. The pills may give you an extra boost if you take them regularly."
Another great method for encouraging growth is protective styling. How long should one keep on a protective style and how long should one wait before installing a new protective style?
"Weaves are a great method for protective styling and can be kept on for about 6-8 weeks. You should give your hair a couple weeks to breath in between."
Sometimes protective styles can ruin our edges. What's your advice on preventing/resolving edge damage?
"The best way for preventing edge damage is not to strain the hair and make the style too tight. Don't over process the hair with chemicals or heat."
For more on Kim Kimble's maintenance and hairstyling tips, read the full article here.