This CBD Start Kit Makes The Best Gift For Anyone In Your Life (Including Yourself)
@fleurmarche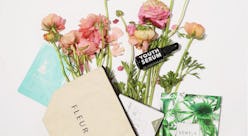 Raising a child is one of the most important jobs a woman can have — not to mention one of the most thankless ones. Perhaps that's why, when Mother's Day rolls around, everyone tries to find the ultimate ways to pamper the lady who gave them life (as well as the other important mamas in their circle). And since those trying to balance motherhood with all their other obligations often don't prioritize self-care, choosing wellness gifts for moms might just be your best bet this year.
Regardless of where the mom in your life falls on the wellness scale — from skeptical-yet-curious to totally sold — there are a ton of stylish and modern products on the market that can make her a believer. Whether it be goods that can encourage a regular mediation practice, an introduction to the wonderful world of CBD, or the latest workout equipment they can use at home (plus the essential post-workout recovery tools), a gift that can boost both her mind and body is a gift that keeps giving.
To make your Mother's Day shopping this year that much easier, find 13 great examples of wellness goodies that will put anyone in a more blissed out state — and who's more deserving of that feeling than the hard working moms in your life?
This kit is the perfect way to intro your mom to the benefits of CBD, complete with a mix of topical and edible products like matcha truffles, a pain patch, bath salts, and skin-nourishing serum.
A good oil diffuser is a great gateway gift if your mom isn't totally sold on the whole wellness concept. Seriously, who doesn't want their home to smell a little nicer? This one from Vitruvi is a sleek design made from porcelain stone and it will diffuse her chosen aromatherapy scent in a space up to 500 square feet.
Speaking of essential oils, this travel-size kit of five roll-on blends can help mom with everything from cold symptoms to stress.
Sure, the ancient Korean practice of gua sha is said to help tone and tighten the skin, but this technique is also great for circulation and lymphatic drainage beyond its beauty benefits. This version is made with black nephrite jade and was designed by an herbalist and acupuncturist to act as a sort of "Swiss army knife" of gua sha.
If the mom in your life has a regular workout practice, or just suffers from the occasional muscle tightness, she'll love a foam roller to help release tension and give a pleasant massage.
For a seriously luxe wellness gift, try this cashmere and organic buckwheat eye pillow infused with lavender and chamomile for maximum relaxation.
For a low impact fitness solution your mom can try at home, get her a mini trampoline, which also helps drain the lymphatic system to boost immunity.
If mom likes to sip the occasional 'booch, maybe she'd like brew her own batch with this DIY kombucha kit. The fermented probiotic tea is great for those with digestive issues.
Buzzed-about wellness brand Moon Juice's cookbook will give mom suggestions for drinks, snacks, and sweets spiked with adaptogens and body alkalizing ingredients.
This hand poured candle includes essential oils and handpicked crystals for intention and meditation.
For anyone new to the intention-setting practice, this card deck can offer inspiring phrases and exercises to help up her mindfulness game (literally).
Besides the health benefits of sipping green tea, creating her own Japanese tea ceremony at home can be an incredibly meditative and soothing daily practice — which is why this beginner's matcha kit is such a great gift.
Is mom interested in meditating more? This hand-dyed buckwheat pillow will give her a chic place to perch while she practices.