The Unexpected Workout Equipment Everyone Should Have At Home
Africa Studio/Shutterstock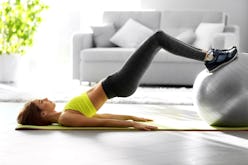 When it comes to the current physical fitness landscape, there have literally never been more options at your fingertips. It's totally anyone's game at this point — niche boutique studios, multi-studio programs (like ClassPass), fitness apps, and, of course, souped-up gyms. And while the aforementioned studios and fitness centers make it easier than ever to get what you need in one place, sometimes getting to that location can be a challenge due to demanding work schedules, social commitments, and life in general. That's why it still pays to have some key home workout equipment on hand in case you need to bust out a quick sweat session in your own living room.
As co-founder of high-intensity, low-impact fitness program the LIT Method, Justin Norris understands how one's daily demands can make running to a workout class difficult at times, which is why the brand includes a physical workout center and on-demand option — the latter of which includes an at-home equipment kit. "I believe it's important to have workout gear at home so you always have the ability to workout regardless of your schedule," Norris says "Life can get hectic and it can become difficult to make time for a workout. However, by keeping equipment at home it allows you to have the freedom and flexibility to work out in the comfort of your home and on your own time."
That said, between the high-tech gadgets, weight-lifting sets, trampolines, treadmills, and exercise bikes out there, figuring out which items are worth the investment and which ones are best used at the gym can be difficult. According to Norris, the best tried-and-true at-home workout essentials are actually the simplest ones. Ahead, the fitness guru offers his expertise on the three best workout items to keep in your home. Let's get physical.
Yoga Mat
Despite its name, yoga mats are more like multi-purpose mats in that they can be used for a variety of fitness programs and are staples in a majority of at-home fitness apps. They're also lightweight and easy to cart around. "You can always perform HIIT and core exercises on your mat whenever you have time," says Norris.
Resistance Bands
While small weights might seem like a default option to store in your your closet, resistance bands are a more practical investment in that they work your muscles just as well and are much more mobile and storage-friendly. "Our 'LIT Kit' comes with all the equipment to complete a high-intensity, low-impact workout from the comfort of your home," says Norris. "Our kit includes resistance bands for your upper body, loop bands for your lower body, and a foam roller for recovery. [...] In addition to being extremely effective, resistance bands can be used to perform a variety of exercises."
Yep, bicep curls, rows, chest presses, squats, and glute bridges are just a few of the workouts that can all be done easily with a resistance band — and they all deliver a heck of a workout.
Foam Roller
This one might be a more unexpected necessity, but it's a necessity all the same. "A foam roller is crucial to have at home, as recovery is just as important as the workout," says Norris. Yes, the small but mighty cylindrical tool helps relieve tension in the muscles while also lengthening them. So they not only assist in recovery, but also allow you to gain some flexibility.