Here's Where To Find Snakeskin Boots Under $100 (Yes, They Do Exist)
Silvia Olsen/Shutterstock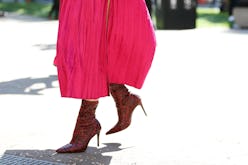 If you've opened up Instagram at least once in the past month, you've probably scrolled past a snakeskin shoe or two (or 100) at some point. They're trending big time, and for good reason — the shoes make everything look super expensive. The problem is, though, that they often are super expensive — so it can be incredibly difficult to find a great pair without spending a fortune. However, there are affordable snakeskin boots to be found — and the hidden gems scattered across the web are proof.
It's not exactly surprising that snakeskin-print is having a moment this season. After all, the biggest print of the year seemed to be leopard, and it somehow still hasn't died — so it makes sense that the world is turning to yet another animal print to wear with everything. And seriously, everyone is wearing it — even Gigi Hadid was seen out-and-about in her own pair of snakeskin booties.
Even though these shoes are everywhere, it can still be hard to come by a really great pair at an affordable price. Many run upwards of $1000, and even sites with lower price points still sell the boots for hundreds of dollars. But affordable snakeskin boots under $100 do exist, though — and yes, there are even some expensive-looking pairs out there that won't break the bank.
If you're on the hunt for a go-to pair to wear all season, ahead are 12 pairs (many of which ring in at well under $100) you can snag to get ahead of this trend for fall.
Affordable Snakeskin Boots Under $100: Ankle Boots
Affordable Snakeskin Boots Under $100: Knee-High Boots
Affordable Snakeskin Boots Under $100: Western Snakeskin Boots
This article was originally published on