Gigi Hadid's $80 Mango Boots Are Part Of Fall's Biggest Shoe Trend
Raymond Hall/GC Images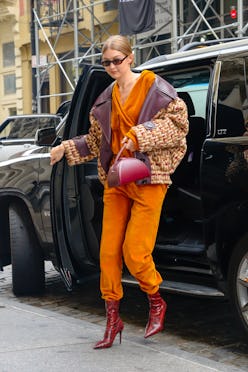 Once the exclusive footwear of rock gods, snakeskin shoes have slithered their way into the wardrobes of fashion's top trendsetters. This year, head-to-toe animal print is certainly trending, but at New York Fashion Week, snakeskin boots and heels have really stood out.
Often, shoes are either the focus of an outfit — or they're an afterthought you throw on as you run out the door. But snakeskin shoes hit an unusual sweet spot: They're statement-making, but they also manage to coordinate well with other prints and colors, too. This means you can style them with bolder clothing — like lime green, fall 2018's breakout color — without any fear of your outfit coming off as contrived or too over the top.
If you're feeling inspired to take on the trend, you're in luck: NYFW has provided plenty of snakeskin shoe styling inspiration. (Gigi Hadid is even in on the trend — more on that below). From pairing over-the-knee boots with a simple minidress to an updated take on mixing prints, consider this your primer to pulling off the coolest footwear trend of the coming months. Below you'll find four easy ways you can incorporate snakeskin shoes into your wardrobe this fall.
And, because you have to own the shoes to wear them, you'll also find a selection of cool styles to shop. Some are more understated (great if you're just easing in to the trend) while others pack a major punch (because sometimes you've just got to go all in) — either way, you'll find the shoes to help you achieve your ideal look.
Knee-High Snakeskin Boots
Knee-high boots and a minidress are a combination that work well together. Since so much snakeskin can be a lot of look, stick with a simple dress in a seasonal hue like burnt orange or forest green.
Gigi Hadid's $80 Snakeskin Boots
Model Gigi Hadid stepped out during fashion week wearing $80 ankle boots from Mango tucked into neon orange sweatsuit — and we found 'em. She coordinated her bag to the footwear, helping to add balance to the bold color palette.Snakeskin Heels
Snakeskin Pumps
Once you start thinking about snakeskin as a neutral, you'll realize it does go with everything: Try styling your heels with plaid pants in a similar color scheme for a combination that feels just right for fall.
Snakeskin Ankle Boots
Ankle boots are a staple every woman should have in her closet, but swapping out the classic black for something a little more eye-catching is worthy trying this season. A colored snakeskin adds a layer of texture to your ensemble.
Snakeskin Mid-Calf Boots
Denim and mid-calf boots are a classic style combination that ready for a refresh this fall. Swap traditional blue jeans for a white denim skirt, and add your boots to the look to finish it off.