Floral Perfumes For Spring Are NOT Groundbreaking — But These 11 Scents Are
Malin + Goetz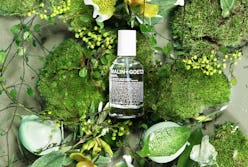 Remember the Crayola shade Spring Green? That color — a light, energizing cross between highlighter yellow and fresh-cut grass — is exactly what I think of when I think of the season of new beginnings, and has been since I was a crayon-weilding kid. Perhaps that's why Stem, the new greenery-inspired, unisex fragrance from Malin + Goetz, made such an impression on me. "Stem is all of the elements from a plant that are not the flower," Matthew Malin and Andrew Goetz, the brand's founders, tell The Zoe Report — a concept that fits right into 2019's trend of non-floral perfumes for spring.
"It's our take on the idea of a garden; it is the residue that is left on your hands," Malin and Goetz, who are also avid horticulturists, explain. "We specifically chose plants for this that felt and smelled more 'green' and focused on the non-floral parts." The resulting combination of muguet flower stalks and rose stems makes for a scent that's floral-adjacent and somewhat familiar, yet totally fresh-feeling.
This anti-floral vibe is one that many brands are leaning into for the new season — Jo Malone's spring collection goes so far as to favor weeds over flowers. "Hemlock is known to be poisonous and nettles can sting you," Céline Roux, a scent developer for the brand, said of two of the line's key notes in a press release. "In general, you don't hear about ingredients like [these] in perfumery." But it's 2019, and consumers are searching for something they haven't smelled before.
"I think there's something about traditional powdery florals, like an old fashioned 'grandma' perfume, that people aren't responding to anymore," Eric Korman, the co-founder and CEO of PHLUR, tells TZR. "However, there are really fresh botanical scents that invoke other parts of the flower or plant, like the violet leaves and oak moss in our scent Sandara." Oak moss is a particularly popular note at the moment. Its earthy, dewy aroma makes you feel like you're surrounded by nature, plant life in full bloom, without the cloying quality of overly-feminine florals. In addition to PHLUR's Sandara, oak moss is a base note in DedCool's Spring — another unisex offering.
Actually, if you're intrigued by the anti-floral trend, unisex fragrances may just be your best bet. "Traditionally speaking, florals have always fallen in the female fragrance category," Carina Chaz, the founder of DedCool, tells The Zoe Report. "With DedCool, I'm committed to creating unisex and gender-fluid scents, while still appealing to everyone." Florals do factor into the brand's formulations — Spring, for example, uses geranium as a mid note — but "they're always accompanied by an earthy or a citrus note," Chaz says.
Mastering that delicate balance between masculine and feminine is an art form so nuanced, soon-to-be-launched perfumer Sigil Scent has built its entire brand ethos around it. "We formulate for a balance of masculine (animus) and feminine (anima) energy," Patrick Kelly, Sigil Scent's founder, tells TZR. "For instance, our Anima Mundi Eau de Parfum juxtaposes so-called 'feminine' floral notes like rose and jasmine with heady immortelle, tobacco, and hinoki." The result? A perfume that's more spicy than sweet.
Ahead, 11 of the best non-floral fragrances — a mix of new releases and classics alike — that feel oh-so-fresh for spring.
Shop Non-Floral Perfumes